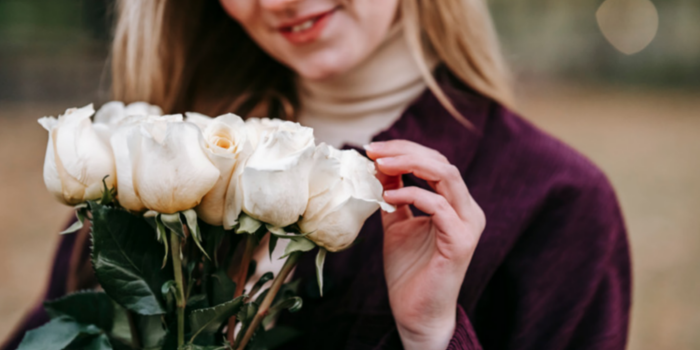 [Updated: Spetember 2021]
---
PLEASE, PAY ATTENTION: TO ORDER A GIFT, SWITCH TO THE DESKTOP VERSION OF OUR WEBSITE (we are encouraging you to open Bridge of Love on your laptop/PC/personal computer).
---
Gift service from Bridge of Love is what you need to express your sincere interest in the life of your special girl. We deliver all the presents lightning fast. Sometimes, it takes us only a couple of hours to deliver the gift and report back to you. Here you can also read about 20 budget ideas for your Ukrainian girlfriend.
When should you use the Gift service?
Every time a girl gets a gift from her significant other, she knows that she matters in his life. We do not exaggerate when we say that the gift service is one of the most romantic ones on our website. You can make your girl happy by sending her a present for a birthday or an anniversary. But nothing and nobody stops you from sending a gift for no special reason - just to show how much you care.
Why gifts from Bridge of Love?
Amazing collection
First of all, we have a great selection of gifts. You can choose a bouquet of fresh flowers or an exotic house plant, a soft teddy bear or a set of sexy underwear, a useful mobile phone, a notebook or a free postcard. As you can see in the photo below, there are 10+ categories of gifts you can choose from.

Reliability
Another reason to choose gifts from Bridge of Love is the reliability. All the presents can be ordered and paid on our website and they will be delivered by hand without delay. A moment after the present has been handed to your girlfriend, you will receive a report from us. Usually, we send our customers a photo of your radiantly smiling girlfriend with the gift you have sent to her.
Attention: we do not guarantee a photo of your lady with a gift in case your gift costs less than $20. If a gift costs $20+, then you will definitely get a photo proof from our team.
Free delivery
Gift prices indicated on the website already include the cost of delivery. So, you do not have to worry about extra expenses at all!
How to order the gift from Bridge of Love?
Find the "Send a Gift" button
There are two ways you can use to send a gift to the lady you like. The first one is to visit your girlfriend's personal page. We have a special "Send a Gift" button on her page which you can press to see the gift list.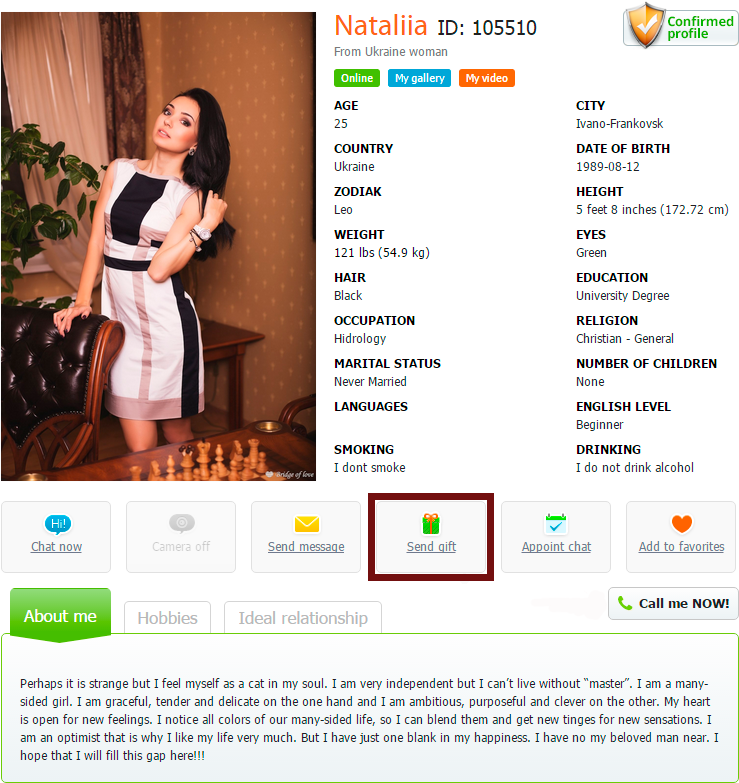 You can also find this button on the galleries page near the avatar of your girl. By clicking on this button, you get into the gift list where you can select a present.

Pick presents
On the gift list page, you can choose one or several items and the quantity of each item and add them to the cart by clicking the "To Cart" button. All the gifts you have selected get into your cart and stay there until you pay for them. Please, notice that you can not send gifts to more than one girl in one order. The left window shows which girl you are ordering a gift for.
Pay for your presents
We will inform you of any unpaid gifts that remain in your cart. After you finish adding gifts to the cart, you can pay for the chosen items by clicking Continue order or Continue shopping buttons. On the confirmation page, you can edit your list of gifts. You can choose several different gifts in any quantity.
How do you know that your girl got a present?
We always get back to you after we deliver the presents to the girl you want to impress. You will get either a confirmation email or a photo proof. We reserve the right to provide you with a photo report ONLY IF you opt for a present that costs more than $20.
Here are some examples of our reports. The photo of a lady receiving the gift is the only evidence of delivery. You are going to get at least two photos confirming the delivery of your gift.
You have the right to request the photo within (but not later than 48 hours) after the gift has been delivered. What can you do if you did not receive a photo that confirms a delivery of the gift or for some reasons do not have access to these photos? Then you need to contact us immediately and not later than 48 hours after the delivery.
Delivery Details
The delivery process begins 24 hours after payment if the client has not canceled the order within this time. Our partners (local dating agencies) are also involved in the delivery of your gifts. They hand presents to your girlfriend within 7 days (starting from the date of payment). In some cases, we reserve the right to extend the delivery period due to force majeure. In case a gift can not be delivered, it will be returned after the delivery term has expired.
We can also deliver your gift at the specific time. To use this feature, you need to complete a purchase in advance. We may make changes to your order (with prior notice to your) if the delivery of a specific item is not technically possible. If a gift consists of multiple items, they can be delivered at different times. Gift prices indicated on the website already include the cost of delivery.
Cancelling the operation
An order can be canceled only within 24 hours since the payment. The order can not be canceled after the gift has been delivered. If you cancel your order within 24 hours after you paid for it, you will get your money back. If 24 hours have already passed but the gift has not been delivered yet you may cancel your order. In such a case we will refund the full value of the gift to your account in credits for use on the site.
You can control and monitor payment and delivery status on the Order History page. You can cancel any order that has not been paid up and ask any question regarding delivery and shipping.
Sending a gift with Bridge of Love is as easy as ABC!!!

Make your girl smile more often and she will open up to you!