[Updated: December, 2020]
What are Experience Points?
Experience is a new feature at Bridge of Love, available only to men. After spending time at Bridge of Love, a man can get free experience points. These points can be later exchanged to credits, or used to add advanced funtionality to a man's profile. The number of your experience points can be seen in the top menu near the purchase credits button (see the image below):

How Can You Use Experience Points?
Get Credits in Exchange for Experience Points
When you click on the Experience at the top right corner of your profile page, you will see a pop-up window. Here, you can exchange your credits for experience following the declared exchange rate:

Buy a Magic Box
A Magic Box is an advanced feature that allows you to add extra cool funtions to your profile. All the magic boxes on our website can be divided into two subcategories:
1. Magic boxes for a lady you want to impress (e.g. profile stickers like Ringleader, Virtual Balls, Bouquet, Cake, Virtual kiss, Strawberry)
2. Magic boxes for you as a client (e.g. Hot, Invisible, Credits, Hacker, Stop, Spam, Email).
Magic Boxes that are designed for girls work on the principle of stickers that you install on the girl's profile, thereby showing your attitude towards her. You can add only one sticker at a time to a lady's profile. If you want to replace the sticker that you have already bought for her, then the previous sticker will be deleted. Please remember that every sticker has an expriration period and will be active only for 7 days.
Magic boxes for you as a client are mainly about adding some stickers to your profile photo or getting advanced features.
If we talk about stickers, you can give Hot a try. This sticker allows you to tell about yourself to all the girls of the website by installing a cool sticker in the form of red pepper. This sticker will be visible to all the girls on the site who will visit your profile or find your avatar in the gallery.
As for the additional men's profile functions, here are some that you can try right now:
1) Invisible
After you buy this Magic Box, it will allow you to remain invisible when visiting ladies' profiles. Girls will not be notified that you are viewing their profile and also will not know that you have read the lady's profile or letter. You remain as secretive as possible. However, this invisible mode does not allow you to hide your profile fully. Ladies will see that you are online, as well as they will be able to receive your letters and chat invites.
2) Hacker
You can get accurate information about your lady's current location based on her geolocation data. How cool is that?
3) StopSpam
The function will allow you not to receive any chat calls from any of the ladies on the site within 30 days. Just buy this Magic Box, go the girl's page and activate the StopSpam feature.
4) Her Favorites
This Magicbox allows you to see all the men's profile that your lady has marked as favorites.
Where to find a Magic Box
So, now that you know that a Magic Box is a real asset, the question is where you can find it on our website. There are two places on your profile where you can get access the Magic Box panel. The first one is Extensions Tab, where you need to click on Shop Magic Box:
The second place is a lady's profile page. Now, it contains an icon that will provide quick access to magic boxes you have already bought. When you click on this icon, you will see the lost of magic boxes that you can give to this lady.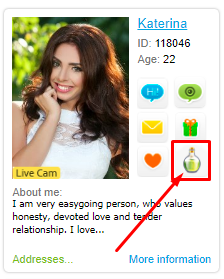 To exchange your experience points for any magic box, you should carefully read the description of it and make sure that you have enough experience credits to buy it. The current exchange rate of experience points for every magic box is listed below the box. Clicking on the BUY button will open a window for confirming the exchange: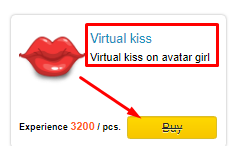 FINAL NOTES:
You can not be refunded for purchasing a Magic Box. When ordering a Magic Box, remember that there is a certain duration of each function, that is clearly stated in a Magic Box's description. The Magic Box function is provided solely on a principle as it is and cannot be modified, edited or abolished at the request of the client. Functionality is provided on all the basic principles of the site services following the Terms and Conditions and License agreement.
Notice. At this moment using Magic box features is available only if you use the desktop version of our website. THe mobile iOS and Andriod versions are on their way!