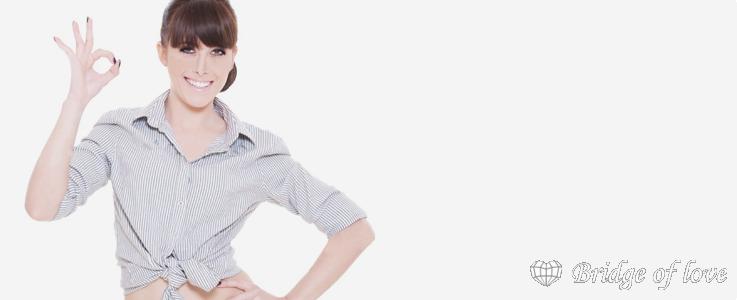 Sort out your priorities.
Be active and persistent. Start showing initiative.
Nothing ventured, nothing gained!
Is it worth going to a faraway country to see her?
Get closer, speak Russian!
How to invite a woman to your country.
Spend great time together on neutral territory.
It is no use sending money.
The more you give the more you receive.
Sort out your priorities.
It is of great importance to start your search by answering yourself a question "What am I looking for?" It always happens that a man stops his search and this vital question remains unanswered. But it is the very thing he should start his search for a Russian girl-friend with. The practical experience of our successful clients shows that one should sort out his priorities first. For example, a man does not have to consider his appearance as the main factor of his search. It is well known that Ukrainian and Russian women believe that the appearance of a man does not matter. Such women want to meet a strong man, who knows exactly what he wants. It is a thorough and concrete search that guarantees immediate success. Remember there are more women than men in such countries as Ukraine, and the number of the former is expected to increase over the next decade. Thus you stand a better chance of success. Know your mind and start your search. Hundreds of Russian women are waiting for you online.
Be active and persistent. Start showing initiative.
The first impression of the person is deceptive. It is important to get to know the person to form the right opinion about them. If you like a woman but your feeling is not mutual it does not mean that she is not interested in you at all. Try to show considerable initiative. A great initiative is considered to be a merit of a man. In most cases, a weak, passive and timid man will not be able to awake a woman's interest. Start your conversations with her for every reason. Russian and Ukrainian brides are very active and rather talkative. They are not only beautiful but also attentive and considerate. They know how to listen and can keep up any conversation. Keep active if you want to win the heart of a Russian woman. Hundreds of beautiful Russian and Ukrainian women on Bridge-of-love.com are waiting for you to be persistent and act resolutely.
Nothing ventured, nothing gained!
Many clever ideas and thoughts often hinder love. Love is a profound feeling that has something to do with intuition and emotions, but not with the mind. You may be afraid to fall in love because you know that relationship is a complicated thing that requires a lot of effort to be taken, many compromises to be made. However seeing a successful couple in the street, which enjoys their happiness, a thought may flash in your mind "Why not me?... Perhaps the answer is that someone took a chance and you have not yet. Take a risk to fall in love and you will gain your happiness for sure.
Is it worth going to a faraway country to see her?
A foreign country often scares people. In the past, international travel was a big problem and remains so today in some countries. Fortunately, almost all the countries of the former USSR open their borders for everybody who wants to visit them. It is fairly easy for you to visit Kyiv, Moscow, St. Petersburg, Odesa and many others. All of these cities have international airports. If you are convinced that you have found your perfect match there but she cannot visit your country, do not be sad. Travel is safe for you and inexpensive. Relations cannot exist online for too long. A crucial moment comes when you understand that you feel the urge to see, to kiss, to hug, to be with a woman you are in love with. Besides, sometimes you have to see the person to look in her eyes and understand her feeling and yours. There are great opportunities that our site provides, from making it possible to see your girl-friend via a webcam, to organizing romantic trips to our country, so you can ask your darling out on a real date.
Get closer, speak Russian!
It is pleasant when you speak with your beloved person the same language. You can feel comfortable saying the words of love in your native language. Almost all the girls on the website take every effort to learn foreign languages, especially if they want to find a decent husband from abroad. Many women have a good command of English, French, Spanish and Italian. Nevertheless, each of them is pleased to hear the native language, at least the most important words every woman wants to hear from her man. If you have every intention to establish a long-term relationship with a Russian or Ukrainian woman try to learn a little about her culture and a bit of language of her country. Make her have a lovely surprise, write a few words in Russian or Ukrainian. Get closer to your beloved woman by bridging a culture gap.
How to invite a woman to your country.
Women whose profiles are posted on our site are deliberately looking for a man from abroad. There are no obstacles for our ladies to visit your country, yet it depends on their desires. If a girl trusts you and is willing to visit your country, then you can invite and help her to come to you. Keep it in mind that Ukrainian and Russian girls are brought to be modest and as a result, they never ask you out on a date or force their visit upon you. Show initiative and take steps. Send her a photo of your home and your near and dear people. Find out what her relatives think about her visiting a foreign country. Be ready that they can appear hostile to this idea, as in Russia and Ukraine there is a huge TV campaign aimed at warning of the dangers of visiting foreign countries by girls, as there are cases when Slavic girls got into sexual slavery in foreign countries. Thus you have to be honest and understanding. Yet do not afraid of inviting her. You and she may be convinced by our statistics of successful trips abroad, made by our clients.
I spent a great time together on neutral territory.
If your woman hesitates about coming to your country, suggest your meeting on neutral territory. Russian women like and can travel to seaside resorts in different countries. A large number of Ukrainian tourists visit Turkey, Bulgaria, Slovakia, and Hungary. If you have such an opportunity, do not miss the chance to visit a country where your girl-friend is going to travel. This is a great chance to finally meet in a relaxed and intimate atmosphere, have the most romantic dates one can imagine, spend a great and memorable time together and decide on the further development of your relations. In summer Turkey and Bulgaria welcome you. In autumn and winter, you can enjoy mountain resorts of the Carpathians or the Alps or hot island paradises.
It is no use sending money.
The former Soviet Union countries are not poor. They still lag far behind technologically from the USA and Europe, but they develop stable democratic values and are rich in natural resources. Nevertheless, some women from our country depict life in our country as poor and hard to ask their men for some money. We take steps to prevent women from swindle men out of money. We disapprove of our members speculating on their being hard up or any other reason. Their aim of being on the site is to find love. Thus you are the first to be concerned that their love was unconditional. On the other hand, if a woman does not ask you for money, but you want to please her, do not send money anyway. She may think that you are trying to buy her love. Thus you can offend your girl-friend. If you want to bring a genuine pleasure to your beloved woman send her a present.
The more you give the more you receive.
Sometimes a small gift fundamentally changes the relationship. Girls require attention. The gift is a sign of attention. The girl is always smiling when she receives a pleasant present. A beautiful girl with a bunch of flowers you presented her with is radiating so much pleasant energy that even a picture taken of her at that moment will keep you warm if you put it on the desktop of your computer. Devote much attention to your girl-friend. If you can be generous and considerate, she will be loving and devoted.