Letters are one of the main ways to communicate with ladies on the website. Letters are one of the main ways to communicate with ladies on the website.

For access to received letters from the lady there are two folders - Inbox and New messages.
In New messages, you will find only letters from the current month that you haven't read.
In Inbox messages you will find all letters from a lady regardless have you read them or no. To open a letter you need to click on the title. Or click the Reply button if you are intended to write an answer.


To delete a letter all you need to do is click on the DELETE button.


To delete several letters mark them via special icon from the left and then scroll down to the bottom of the page and click on the trash bin.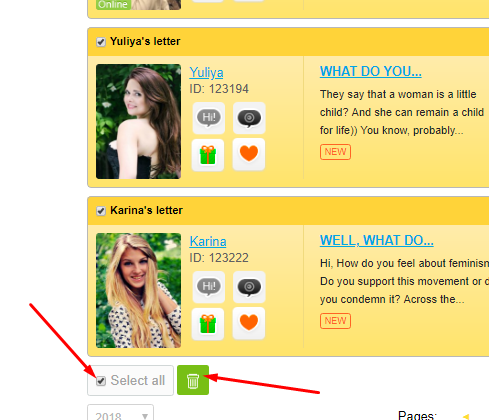 Sent and received letters in all folders are stick to their status, in particular, READ - if letter already read and ANSWERED if it is already replied.


If there are no status icons next to the theme of the letter except NEW it means that the letter was delivered, but not read yet.

How to add a letter to featured and find it there later.

If you have received a special letter and do not want to lose it among other letters in your inbox, click on the "Add to featured" button.
This letter will be marked and you will able to find it in the "Featured" folder.

How to block a lady from further correspondence.
If you do not want to communicate with a certain lady then click on the "Add in blacklist" button.
Lady's profile will be added to a blacklist and she will not be able to write to you anymore. If you added a lady to a blacklist accidentally, you can delete her from the blacklist and recover communication with her.

PAY ATTENTION!!!

- It is impossible to move a letter that you have read to a "New" folder;- Letter status READ-ANSWERED shows your interaction with them. For example, you have read a letter or answered about it already;
- To recover a letter that you have deleted, you will need to write a letter to Administration. Noticing you that unfortunately there could be technical circumstances under which letters cannot be recovered.
- By clicking "Add to featured" on the letter, only this letter will be moved to the featured folder. Other letters from this lady will stay in the inbox folder.
- By clicking on the "Add in blacklist" button, only future letters from a lady will be blacklisted.

TAKE A NOTICE
For writing a letter you must have enough amount of credits. Please meet a relevant price list on the related website's page. Using this service automatically means that you have met rules&policy of the letter service. According to your membership status amount of text characters and amount of photos are limited according to the tab. Besides, we cannot guarantee that text will be delivered if it's text is larger than the allowed limit.
For example, you cannot send 5 pages of text and attach 10+ photos to it. Such limits are stated due to our experience. This happens also because in a lady's opinion such amount of text is too heavy and does not help to know each other better. During delivery of the letter, credits are deducted from your account, but notice about successful delivery will be established in order history only after the lady will read it or reply. Therefore, our system controls the replies of all client's letters. Finished delivery will be marked by the date when the lady opened your letter, but not the day when the client sent a letter.

The letter that was sent to a lady by a mistake could be complained by the client in 5 days.
If a letter is deleted by clients immediately after sending, credits will be deducted anyway.
We do not provide a refund of credits if:
1) The letter was sent more than 5 days ago;
2) The letter has a reply from a lady and the client sent a letter to the same lady;
3) During check was found out that the client tried to cheat on the billing system by deleting a letter right after sending;
4) During check was found out that the client tried to send contact information or any other example of rules' violation;
5) The client sent the same letter to several ladies.