[Updated: May, 2020]
Not all dating websites offer free trials. But Bridge of Love is a notable exception. We care about our clients and always go for transparency if possible. That is why we offer a free trial for all our new customers. Are you excited? So, keep on reading to learn more about how to join the free trial from Bridge of Love.
Steps to joining the Free Trial on our dating website
Step 1. Activate your email
When you register on the Bridge of Love site, you have to specify your email. Make sure that you provide our website support team with the email that you are currently using. Why is it important? First of all, you must specify the actual email because, after successful registration, you will receive an email with a link to activate your profile on the site. What is more, the actual email address will allow you to track all the special discounts, auctions, etc., on Bridge of Love.
In other words, if you have more than one email address, double-check if the email you used for registering on Bridge of Love is the one you use every day!
Step 2. Fill out your profile
How do you do that? You need to login to the Bridge of Love website and go to a blank photo space section in the top right corner of your screen. After you click on this section, you will see the button "Edit profile" (see the photo below). This is where all the magic begins!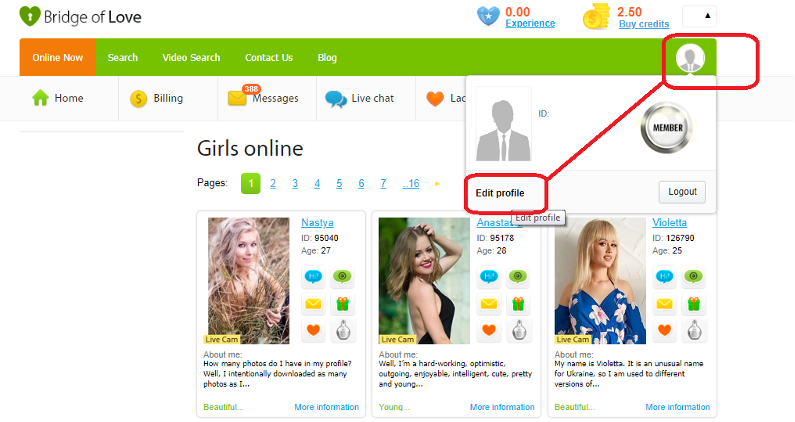 After being an active player in the international dating market for over 10 years, we know that both girls and gentlemen are more interested in profiles that have photos. So, adding a photo is the first thing you should do. Also, it is advisable to be specific about your country of origin, as well as your appearance characteristics.
Both women and men on our website can edit their profiles freely. Put simply, if you feel the urge to change some important piece of information on your profile, just do it! For example, if you used to live in Boston but a week ago moved to Chicago, it would be great if you changed your city as soon as possible.
As you can see, it is easy to join the Free Trial on the dating website you are currently visiting. What is the catch, you may ask?
Real Free Trial on the dating website?
In fact, there is one catch. The Free Trial mode is active on the Bridge of Love website only for 3 days from the moment you activate your credit card on Bridge of Love (including the day of activation itself). How does this activation work?
You need to go to the BUY CREDITS section you can see in the top right corner (for more details, s. the image below).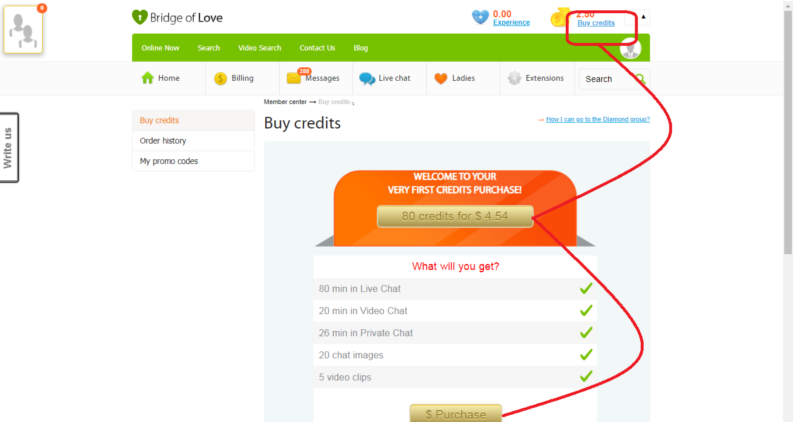 As you can see, credit card activation is a real bargain. For less than $5, you can get a lot of great things, like 80(!) min in Live Chat or 20 min in Video Chat, or 5 video clips.
After you make this first purchase, we will send you a letter of confirmation. And this is when the free 3-day trial begins!
How does the Free Trial on the dating website work?
The Free Trial on Bridge of Love means that you will be able to:
- Open as

many letters

from girls as you want to

- Make use of all the

advanced search filters

-

Send 5 free letters

to any girl on the website

-

Get a 25% discount

on chat/introductory videos

-

Enjoy a 10% discount

on any gift for any girl
PLEASE NOTE: Letters that are sent by the client during the trial period and discounts under no circumstances can't be repealed, renewed, or returned to the client in the form of credits or money. The service is provided under the conditions "as is" and loses its effect after the expiration or purchasing of the second credit package by a client. We have the right to deny you in trial service without explanation.
Do not miss your chance to get huge discounts today!