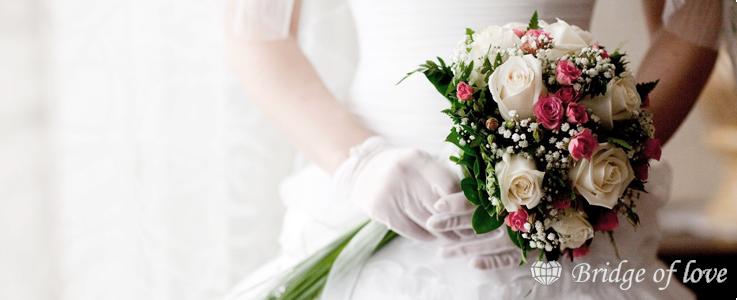 Why Bridge-of-love.
Bridge-of-love is an international dating agency. Our agency aims to meet all the expectations of our customers, even those who are the most hard-to-please. We are ready to provide calm and save the setting with a relaxed and romantic atmosphere for communicating and developing special relationships.
Bridge-of-love is working 24\ 7 to give you the possibility of using it any time you wish. Our experts are helpful and ready to answer all your questions and fix all your problems concerning using the website and the services.
We use the latest technology and services, online support, support through e-mail, telephone consultations and video chat. Our team is working around the clock to provide you with safe services of the highest quality. The interface of our website is well developed to provide you with the best possible comfort and a sense of real connection.
We cooperate only with those local agencies which acquire a reputation of being honest and reliable. Our partners are working throughout the former Soviet Union countries and Eastern Europe. Yet we are extremely prudent and thus we refuse to cooperate with those agencies that neglect their duties or gained a poor reputation.
We are proud that not only the Bridge- of- love, as our main dating site, but also the local agencies, as our representatives, are always ready to faithfully serve our clients to expand this valuable dating service. We do our best to arrange not only personal dates, but also group meetings and parties with ladies, and even city tours.
Our ladies when looking for family happiness often come to our local dating agencies to find a decent husband or a boyfriend from abroad. There all the ladies have in-depth interviews and are psychologically tested, which helps us and them to understand what partner they need. Besides, it prevents our male clients from any kind of scam, as our tests show whether a lady is faithful and sincere or not. We obtain detailed information about all the ladies of the site; however, none of our agencies can use it without their consent.
Unfortunately, we are unable to maintain lifelong interest among ladies. Thus you can get the full range of our services only if and until a lady is a member of our dating agency. This is because we are working with real people, not only with their profiles. However, all the rules and services of our website aim at making people find a sincere and reliable person for a serious meaningful relation and marriage.
We are glad that you are with us. We hope that our site will help you to find your love. Our site does not deprive you of reality. We take all the efforts in the order you could use the Internet wisely and, in the nearest future, experience the sheer joy at going out on a real date with your lady.
We are fully confident that our close collaboration will be fruitful, and, as a result, you will find your happiness.
What we can offer
Bridge-of-love is an international dating site that offers you different services not only in online dating but also in real romantic dates, in developing serious relations and marriage. Our website aims to create a virtual bridge that connects real lives. The Internet is developing very dynamically, and it gives a lot of opportunities for communication, however, people still have problems at finding and establishing a serious and real relationship. We built this bridge to make your dream of happiness come true.
Our team of experts is ready 7/24 to help you conveniently and comfortably use our site. We constantly improve services to make your search more and more efficient. Besides we want it to be as real as possible in order not to deprive you of a sense of reality, which sometimes happens while using online dating.
We are a team of professionals. Our staff is people who have many experiences in online and real dating. We cooperate with the Ukrainian and Russian dating agencies that are in this business for many years and have already connected a great many lonely hearts. We know how to organize personal meetings, dates, parties, country tours for our male and female customers.
Bridge-of-love is a young site, but even the first two years of our work are very fruitful. This fact is proved by many grateful customers who have already found their love with our help. Our contribution to the harmonious relations of many couples is the best reward and the best proof of our reputation.
Choose from a wide range of our online dating services and a huge list of beautiful brides. We do not use any software to find a perfect match for you. Everything here is up to you. The choice is yours, a site is just a tool .. Choosing your happiness is in your head and your heart, hope, and sincerity are your chief assistants in the search.
We have our hearts in our work and do the job with devotion. We are always glad and welcome any suggestions or remarks on it from our customers. We are also happy to find out that you have found your love on our website, so share with us your romantic stories. Thus if you have anything to tell us, do not hesitate. We are grateful that you are with us .. Enjoy your love search on Bridge-of-love. Every good wish for your future happiness. Yours sincerely
Bridge-of-love administration