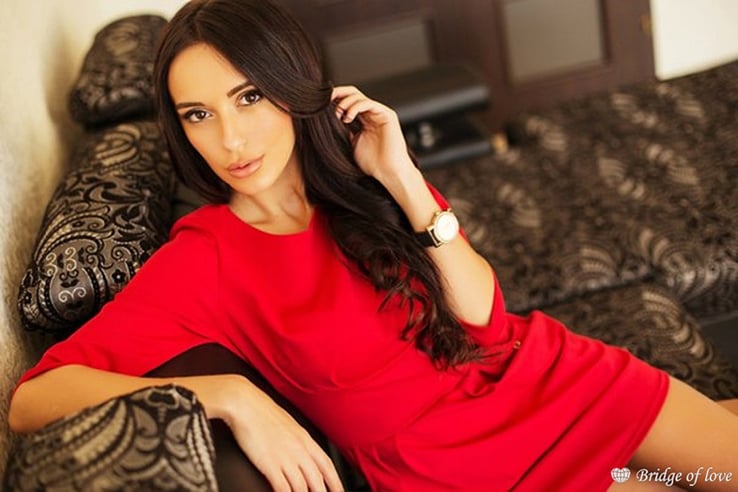 - Today we speak with Christina id 104629 the winner of beauty contest "Miss June" bridge-of-love.com. Hello, Christina!
- Hello! Firstly I want to say "Thank you" to all who gave their voices for my photo on the contest! It was really great to win this contest and I am very happy to feel the attention of those wonderful people!
- Christina, tell us please about your photo. How did you won the "Miss June" contest?
- Oh, it was made in photo studio in Lugansk. Now we have difficult situation in our city and I'm thankful for photographer for his help and support. I just wanted to give some beauty to this world and I hope I did it!
- Of course your photo is really nice! Tell us please what did you felt when you found out that you won the contest.
- It was really great! It was one of the brightest moments for the last months! I was crying from happiness! It was so unexpectedly for me!
- We want to bring to mind the theme of the contest "Miss June", it was "Ladies in flower wreathes". Tell us please what flowers do you like most of all.
- I adore all flowers, but most of all I love roses! They are so tender, redolent and really magnificent flowers!
- Do you know what these flowers symbolize?
- Of course! Red roses are the symbol of passionate love. If roses are pink it's the symbol of sympathy and amorousness. And white roses symbolize innocence, sincerity and noble feelings.
- So why you did you choose red roses?
- I am here to find my real love, the true feeling full of passion and warmth so this is why I decided to make photo with wreath made from red roses.
- Would you like to tell something to the ladies on bridge-of-love.com?
- Yes, I want to say: Don't be afraid! Take risks and you will find your man here!
- Thank you, Christina! We wish you good luck in your search!
- Thank you too!