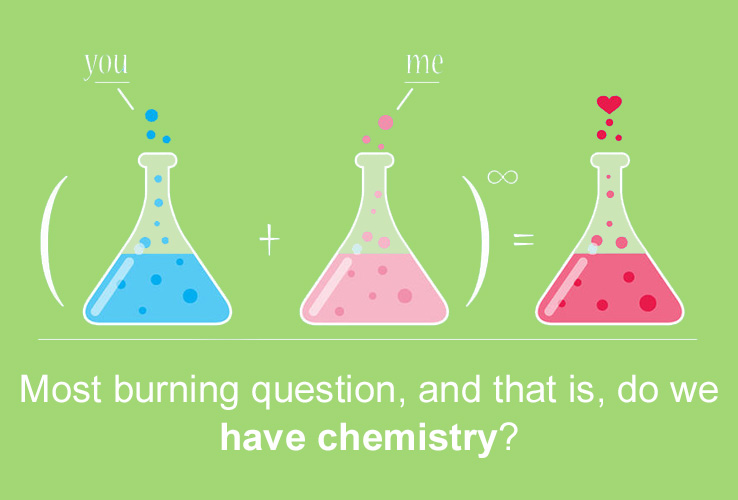 Has anyone of you ever NOT wondered if you really have chemistry with your boyfriend or girlfriend or is it just your curiosity and strong desire to fall in love? Pretty much everyone feels strong attraction to a person he is dating during first few weeks of relationship but is it enough in a long run? How do you know if this is the person you are meant to be with or are you simply being controlled by your passion and primal instincts? If you have ever asked yourself one of these questions, keep reading this article to get some very interesting answers.
First of all, let's define what chemistry is. You may say it is like asking for the definition of love. Well, not really. Chemistry is often described as a complex emotion which you feel for another person. In other words, it is attractiveness to a person which often leads to dating and relationships. You create this bond which can be seen by everyone around you. Chemistry is also often referred to as a 'spark', this feeling when you and another person just 'click'.
Now that you know the definition, you can't wait to learn the answer to the most burning question, and that is, do we have chemistry? Here are some signs which will tell you if you do or do not have it. You two have chemistry if:
1.

You want to meet again right after you said goodbye or even before that;

2.

You smile every time you think of him/her;

3.

Butterflies in your stomach make it hard for you to breathe;

4.

You can't wait to share your every thought and activity with this person;

5.

You do not notice anyone around when you are with him/her.
Do you recognize yourself in this description? If you do, you most definitely have this huge attraction called chemistry, and dating this girl or boy will soon lead to relationship and possibly marriage (if you do not screw up big time, of course). But what do you do if none of the points mentioned above ring a bell, yet you really like this person? Well, relax now, because some people believe that chemistry does not just come at first sight. Sometimes it is a process which requires learning another person's character, seeing him in daily life, discovering his interests and behavioral patterns. The wonderful thing is that we all are different, that's why chemistry may mean something unique for everyone.
You have probably heard about fictional marriages and situations when a girl marries a boy because of his status in the society or financial well-being. We are not suggesting you do that but sometimes no chemistry can still lead to a good relationship. Why? Because chemistry can be a bad thing that will blind you and make you date the wrong person. You must have seen this happening around you. It's like some unknown force that's pulling a poor woman to an alcoholic or a drug addict, and she does not listen to any arguments that she deserves better. That's the bad side of chemistry. If you let this feeling take advantage of you, you may find yourself dating someone who has all the qualities you used to despise.
However, in most cases people describe chemistry as the best thing that has ever happened to them and that is what pushed them to marry this or that person. Chemistry often binds people and keeps them together even after many years of marriage with its everyday problems. When the chemistry leaves your relationship, you might feel some inner desire to go search for it somewhere else. If you do not want it to happen, try to keep this flame burning between you two for as long as possible. Just remember the look on your face when you saw your girlfriend or wife during first weeks of dating and try to get back to those times in your present life.