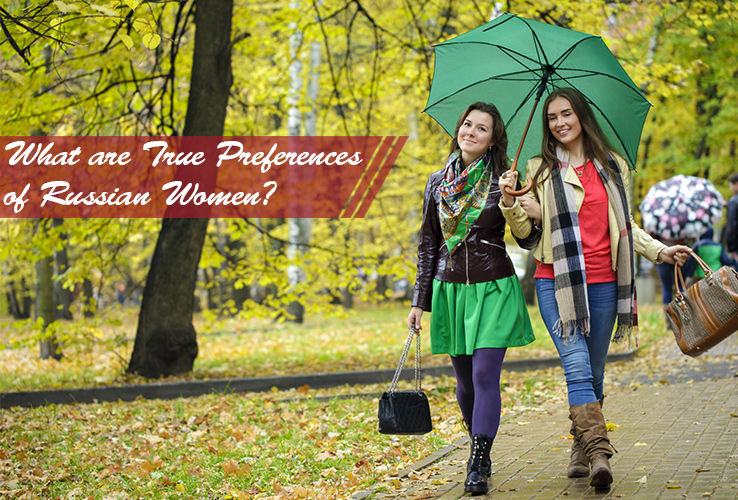 People make decisions every day and usually do not pay attention to these actions. When it comes the time for serious preferences such as future wife or husband, we usually think a lot. What preferences do Russian brides have concerning marriage and family life? It is important to find out views and opinions of another person prior to marriage to avoid bitter disappointment. They will differ due to the age, social status and place of living.
Young girls' dreams
Let's take an average eighteen years old girl. She is attractive and she definitely knows it. If this girl comes from a little village, she will choose a rich and prospective man who is older than she is. If she lives in a big city, this young female will choose the same variant. The more attention she gets from men the later she will get married with one of them. It happens subconsciously. A great number of variants may confuse and make the formation of preferences process hard and too long.
Well paid job and free time
Russian women work long hours and do not waste time on expecting the miracle. They act as any other women of the world. Most of them suffer from lack of free time, so preferences about relationships and the best partners change. If a young girl dreams of romantic expression of love, women over twenty five dream about quiet cozy home with no over the top feelings. The main preference is reliability and confidence. An average Russian woman wakes up and dreams one day she will see her only one in her bed. She can confide in him and stay calm because this very man will never let her down.
Free time is a rare luck for modern Russian cuties. They prefer to spend enough time communicating with the world. Thanks to dating agencies, women have a wonderful possibility to marry the men meeting all their needs. Inner world of women and men in Russia differs so much, that it is much easier to find a soul mate from abroad than in a home place. They do not choose husbands like cheese in the nearest supermarket, because it is the most important preference within the entire life that will change an ordinary way of existence.
Do Russian women's preference differ from the ones in other countries?
People are different everywhere you go. Some like short love affairs while others prefer to date only if you plan to get married. Basic ideas and principles unite people round the globe. No one prefers to be hurt or betrayed in any country. Here you will find a list of the most important preferences of Russian women and you will compare them to the ones you observe in your country.
They dream of long lasting relationships, so they prefer calm and confident men.
They prefer sober way of living, so give up drinking to marry a girl of your dream in Russia.
Russian females dream to leave their country to change life for better. They prefer to live in any other country except Russia.
These girls prefer love to money, because money will not be able to hug, regret and help when you feel bad. Loving couples live long happy life.
Russian women prefer to save up money instead of wasting on unnecessary to her mind things.
Is the list too long or difficult to deal with? As we all can see, these attractive creatures do not really differ from other women of the world concerning preferences. Each girl or woman is unique and there may be variations for better or for worse. To find out what are true preferences of your future wife, just ask her. Do not be afraid to use your mind and your tongue. Russian women prefer strong willed and brave men. Good luck!