Free credits on Bridge of Love is an integral component of our loyalty program. We believe that every single client of ours deserves a chance to get to know how our website works completely free of charge. So, how do you get these credits?
Steps to Getting Free Credits
To enjoy up to 100 free credits on Bridge of Love, you need to remember this simple rule: The more time you spend on perfecting your profile, the more credits you will get. We want our singles to have the best online dating experience. And this experience starts with building up a strong profile. That is why, our support team has come up with tasks that will both bring you free credits and help you create an impressive profile on Bridge of Love.
To find these tasks, go to the My Tasks page (s. image below):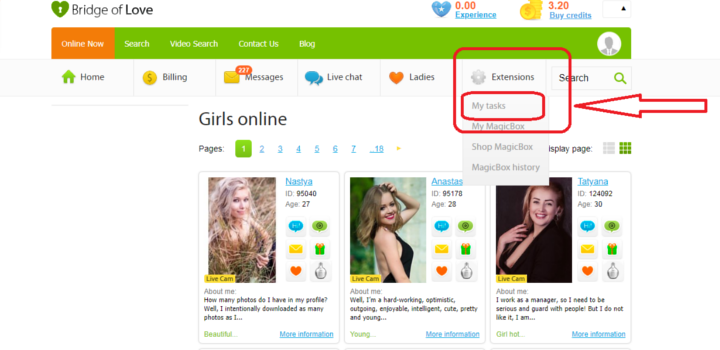 The full list of tasks contains 8 items, and namely:
1. User identification (confirm your identity by making a payment on our website);

2. Activate your profile (confirm the validity of your e-mail);

3. Activate your phone (confirm your phone number);

4. Add an avatar (upload your profile picture);

5. Complete your profile (fill in the form to get a reward);

6. Buy a gift (surprise your dating partner with a present);

7. Like our Facebook page;

8. Like our Twitter page.
By completing all these 8 tasks, you can get up to 100 free credits. You can see how many credits you can get for every single task on Bridge of Love (s. image below):

Categories of Tasks
We have divided all these tasks into 4 categories so that you enjoy your dating with Bridge of Love to the fullest. These categories are new tasks, active tasks, accomplished tasks, and not-accomplished tasks. You can access each category by clicking on the links below.
A "New tasks" tab contains a list of new tasks available for you. Look through this section from time to time. Some new tasks might appear here!
An "Active tasks" tab contains a list of tasks that you have started to perform but have not completed yet. You can always continue to fulfill a task or reread the terms and conditions. Besides you can check the progress of fulfilling a task.
Accomplished tasks are all the tasks that you completed successfully and got free credits for doing so. We inform you on the time when each task has been completed. If you think you have completed the task correctly, make sure to check it and visit this section again.
Not accomplished tasks are those tasks that you were not able to complete for various reasons.
100 Free Credits with Ease
Right here, you can find more information how you can complete the Activate your phone task. If you have any questions, feel free to contact our support team.
Click the link below to buy credits and start looking for happiness at Bridge of Love NOW!
Final remarks
PLEASE NOTE: You can get free credits only if you comply with the following conditions:
1.

Before receiving bonus credits you agree to our terms of use and will not distribute contact information in messages, Live chat, on your profile, by any other means in any explicit or implicit form.

2.

You agree that the site administration is able to withdraw bonus credits from your account at any time and cancel your membership if you breach the site terms and conditions.

3.

You agree that the site services are paid. Bonus credits are provided to you only for the purpose of assessing all the benefits of the site and try it out.

4.

You agree to provide true information about yourself (first name, last name, date of birth, weight etc) in your profile form. Do not post any nude photos and erotic content.

5.

You agree that the total number of bonus credit is divided into separate parts which will be awarded to you for accomplishing some small tasks and achieving certain objectives. Thus when you accomplish a task you get certain number of credits.

6.

You agree that the site administration can add some additional rules to this list notifying you about this.

7.

Bonus credits you received for tasks and services spent on site would not be returned and would not be paid in the form of cash or any other compensation in no circumstances
Follow the instructions mentioned above, and you will receive up to 100 free credits with ease!