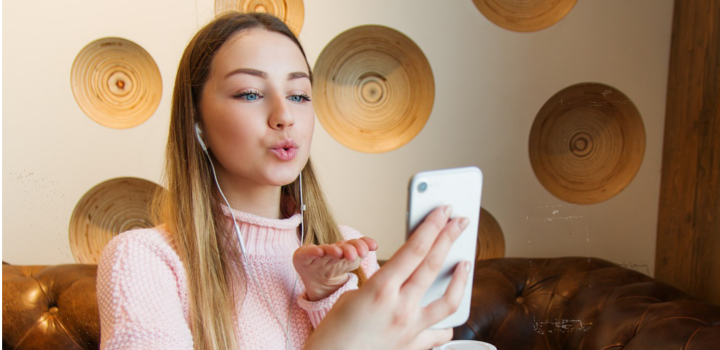 There are many reasons why it can be a great idea to activate your phone on Bridge of Love. First of all, by activating your phone, you will get 50(!) credits on your account. Yes, this simple. Yes, 50 credits!
Also, the phone activation task is a sign for our dating platform that you have serious intentions. That is why shortly after completing this phone activation task, you will get other pleasant bonuses and perks (for example, additional experience credits).
To read more about other tasks, please go to Up to 100 credits free page.
How to complete the "Activate your phone" task?
To start completing this task, you need to go to Extensions - My tasks (s. image below).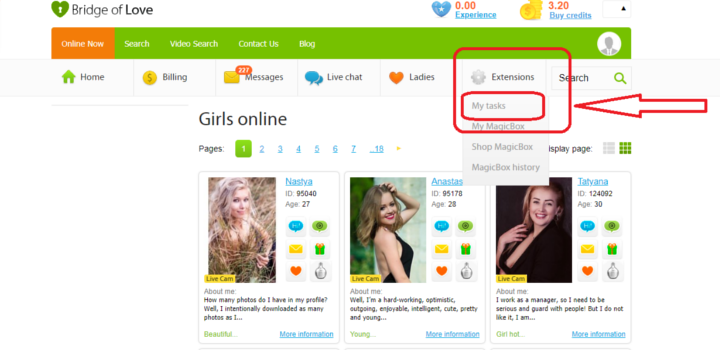 Then, you will see the full list of tasks you can complete to get credits completely free of charge.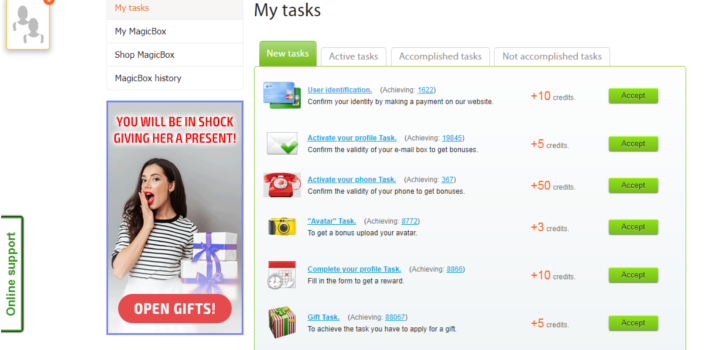 The "Activate your phone" task is the third on the list. What makes this task so special? Well, it is the only task that can help you get 50 credits. Completing other tasks costs less (from 2 to 10 credits per task).
"Activate your phone" task in 3 steps
The first and the most important thing that you should know about this task is that you cannot complete it without finishing the Activate Your Profile task and User Identification task. This is the very first step you should make before beginning Activate Your Phone task!
After you have completed Activate Your Profile and User Identification tasks, you should follow these simple steps:
1) Accept the task by clicking the yellow button on the right (Note: You can find it in your Extensions -> My Tasks, or follow this link) or click the link of the task as in the image below: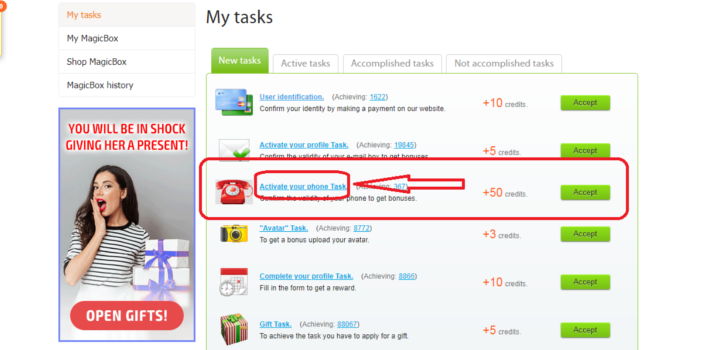 You will be redirected to this page: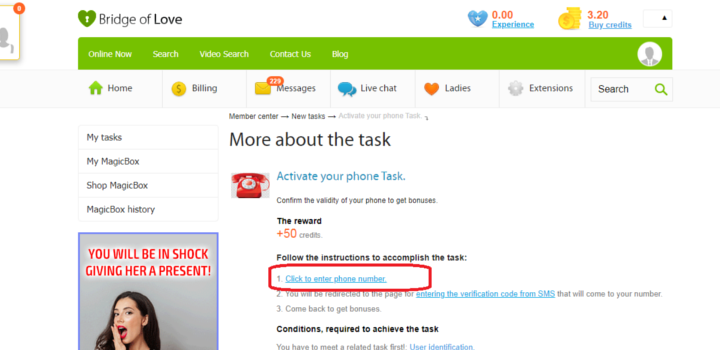 2) Enter the full phone number with your country code. You can get your country code here.
3) Only after you have submitted your phone number you will be able to send a request. To send a request please click on the "Accept" button.
After you have done and meet all requirements, you will receive a code in 5 minutes.
Tips and FAQs about Phone Activation
You can submit a new code only once every 24 hours.

If you cannot see a dialog window to enter your phone number after clicking on "Click to enter a phone number" then please re-login to the website.

You will not be able to change your phone number and it will be bonded to your profile.

If you have not received your code after 5 minutes,

drop us a line

!
Free Credits for Your Phone Activation
50 credits in exchange for your phone number is a real bargain. So, let's stop waiting and start living a new life filled with acceptance and passion at Bridge of Love!