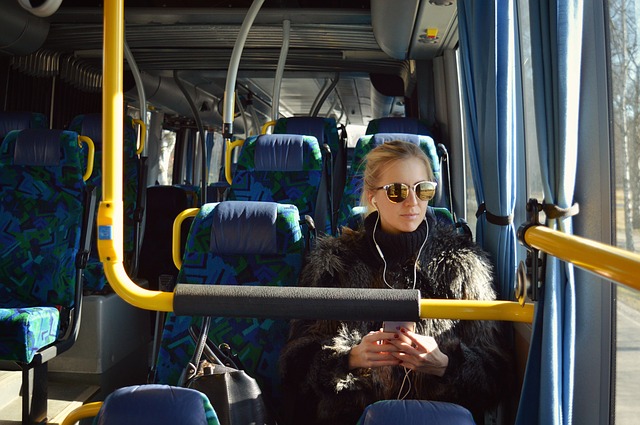 [Updated: June, 2020] Ukraine public transport is something you have to be prepared for, no exceptions. Just imagine that - you register on a our dating site, learn how to make your first steps and after some time of heartfelt conversations and video meetings on our website, you decide to come to Ukraine and meet the love of your life. The plane has landed and you are ready to meet the beautiful fiancée. However, you don't even imagine what an adventure game is waiting for you on the way to your happiness. It is Ukraine public transport.
Everything seems to be simple at first sight. You have arrived at the place of destination. Now it is time to download a special application that will show all the means of public transport to use with a fixed schedule, fare, and stops. Such applications are a common practice all over the world. Except for Ukraine. So, how can you get around safe and sound in most Ukrainian cities?
Services: Ukraine Public Transport
Here are some services you might want to try not to spend a fortune on taxi.
EasyWay
The only website that may help you in this situation is EasyWay. It is a convenient service. One may enter two addresses and find information on how to get from point A to point B.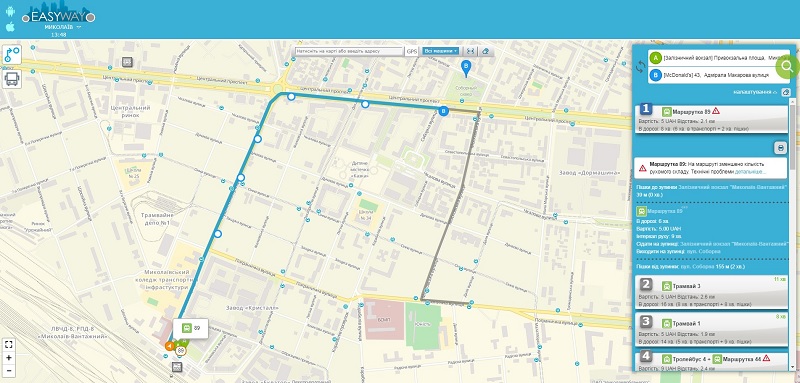 The website shows all the means of public transport you may take to arrive at the place of destination. Moreover, you will also see how fast you may come to this place, the distance, and the fare. Still, the website has a small drawback. Everything is written in the Ukrainian language. So, if you speak Ukrainian, it is your solution. Otherwise, it will be useless and it is necessary to look for a different way out.
Traditional Ukraine Public Transport in Cities
There are different means of public transport in Ukraine. You may take advantage of buses, trolleybuses, trams, and minibusses which are probably the most popular transport in the cities. If you have come to large cities, like Kyiv or Kharkiv, you are a lucky person because there is also the subway at your disposal. Here you will find detailed instruction on how to get to the necessary place. Signs and announcements are not only in the Ukrainian language but also in English. Thus, there is little chance to get lost in the unknown city. The tickets are available at each station.
The question is what to do if you have arrived in a small city, like Mykolaiv, where there is neither the subway no the signs showing the schedule and route of buses or trams. Of course, they run on time but nobody knows when and how. The only city that has public transport timetable is Lviv. Unfortunately, this information is unavailable in other cities.
Marshrutkas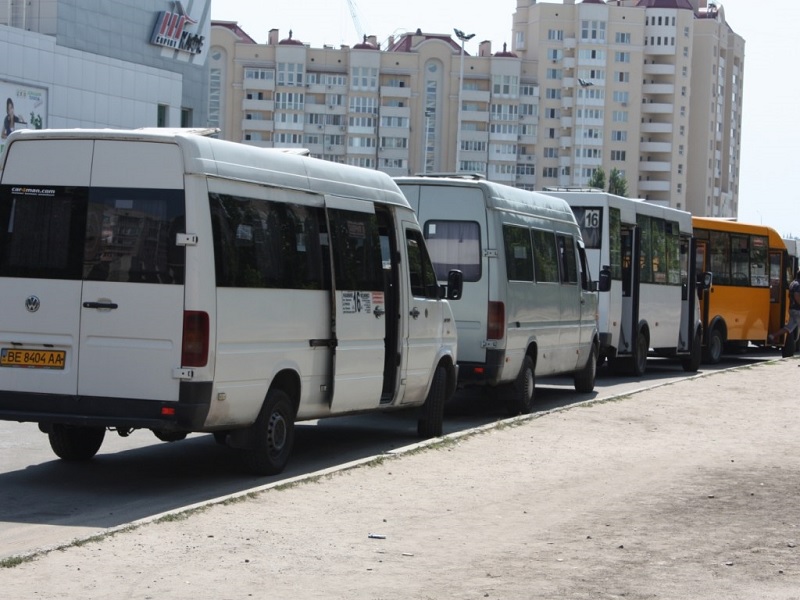 There is also such means of public transport as minibusses or marshrutkas (see the image above).
They are quite affordable. Moreover, there is a list of stops written and stuck to the side of each vehicle. However, this kind of Ukraine public transport is not the most comfortable one. First of all, the list of stops is available only in Ukrainian or Russian. Also, such minibusses are always overcrowded. One more point is that you should know the exact stop where you want to get out. Otherwise, you risk being lost in the city.
Taxi Service
It is more convenient to use taxi services rather than traditional Ukraine public transport. However, it is not advisable to hail a cab in the street. On the one hand, it can be dangerous. You don't know the city and it is unwise to trust the very first taxi driver you meet in the street. What is more, he (the driver) may charge far too much for the ride.
If you speak Ukrainian or Russian and have a Ukrainian SIM card, it is possible to order the taxi by phone. It is a common practice in Ukraine. You call a taxi service, tell them your current location and the point of destination. In a few minutes, you receive the SMS with the cab details and the exact cost of the ride. Usually, it may take up to five-ten minutes to wait for a taxi to pick you up.
Uber
Uber is a very popular service in Ukraine. It allows ordering a cab from any location with the help of your smartphone. If the driver accepts an assignment, you will track its position and route to monitor how fast he will reach the place to pick you up. Besides convenience, there are other advantages of using Uber service:
it is an affordable service. Ordering a cab via Uber can be cheaper than calling a taxi service, not mentioning the cost for a ride if you hail the car in the street;

it is possible to pay by credit card. You don't need to look for cash to pay for the ride;

it is available 24/7. You shouldn't worry about finding a car to get to the point of destination no matter what time of the day or night you arrive;

it is safe. Drivers who work for Uber are reliable. It is proved by a customer rating that should be at least 4.6 or higher. Passengers may check the driver's rating before ordering a certain cab. Moreover, you should also leave your feedback after every ride you take to help other passengers find a good driver;

a wide range of vehicles to choose from. Thus, you will enjoy your ride in a well-maintained car.
Unfortunately, this service is available only in 7 cities in Ukraine, in particular, Dnipro, Kharkiv, Kyiv, Lviv, Odesa, Vinnytsia, and Zaporizhia. If you want to use the similar one, it is worth paying attention to Uklon.
Uklon
Uklon is one of the leading taxi services in Ukraine. It is available in more cities than Uber. You may use it not only in big cities, like Kyiv, Odesa, or Lviv but also in small ones like Mykolaiv, Poltava, Kherson, etc. It is the first service in Ukraine that allows hiring a cab via the Internet. You may order a car, having downloaded and installed a special application on your smartphone or make a reservation on the website uklon.com.ua. If you order a cab from the mobile application, you don't need to enter the name of the street to identify the location. It will be shown on the map due to the GPRS.
When ordering a car via the Uklon service, the passenger can choose one or several additional options. For example, it is possible to:
select the car class;

order English-speaking driver or courier service;

mention that you need a child car seat or air conditioning;

check whether you can transport additional baggage inside the car, not in its trunk;

have a ride with a pet.
One more advantage is that with Uklon mobile application, you will be able to find a cab for a relatively fair price. Moreover, the client can either adjust the cost of the ride or get a discount. It is possible to pay by cash, by credit card, using Google Pay or Apple Pay. There is also the driver rate system that ensures the quality of the service provided.
BlaBlaCar
If you want to have a romantic weekend with your soulmate somewhere outside the city or in another city, BlaBlaCar is the best option to select. The service works mainly for long-distance travel. It is quite cheap and convenient for those who want to meet locals and get some idea of the picturesque view of the country. While making a reservation, you will know who will be your driver, as well as other passengers.
Our Recommendations on Ukraine Public Transport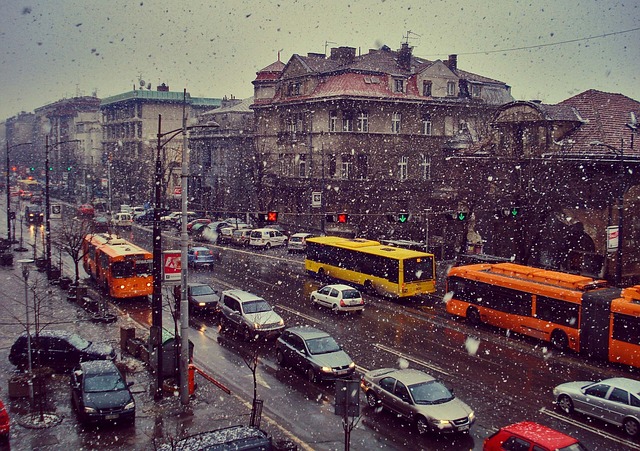 This brief overview of Ukraine public transport shows various options to choose the best variant when you come to Ukraine. Of course, if you are in a big city like Odesa and Kiev, and you speak some Ukrainian or Russian, or if this is not your first visit to Ukraine, then you can use any public transport means mentioned in the article.
However, if this is your first visit and you have zero expertise in both Ukrainian and Russian, stay on the safe side and use taxi services.