Your first step is to verify your E-mail address. During registration on the website, your E-mail will be sent a letter and link for verification. Click on the link in your letter and you will receive only important messages from our website.
If during registration you have sent wrong E-mail or want to change it due any reason please write us a letter. We will do our best to solve the issue.
Second step is to fill up your profile. On our website only real ladies, that is why we ask you to mention only objective info about you. If you wait for honesty to yourself, be honest in your profile.
If you are still not ready to leave your data, you can do it later, but remember that clients with not filled up profile do not have full access to ladies archive.
The third step. Confirm your identity with a payment card. Due to frequent cases of fraud on the Internet, we are forced to identify our customers. This helps us avoid deception among the ladies, it also reduces the risks of deception among men. Information about your card is stored on the site of a reliable payment system and is not transferred to anyone. To start identification, you just go to the page and click on the banner of choosing the type of subscription. At the moment there is one subscription available on the site. After choosing a subscription, you are asked to choose any reliable payment system and purchase a subscription.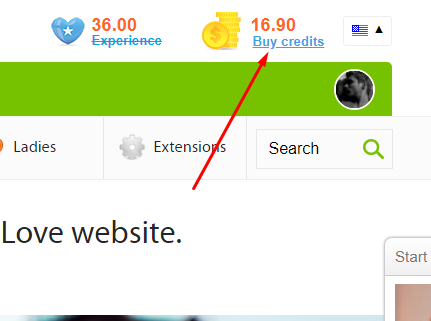 Payment is one-time only and do not requires further purchases without your own want. But according to our rules&policy we have all right to ask you for a repeat identification in a case if your card data will need an update.
If provided ways of purchase are not satisfy you due any reasons please write to us any other way of identification.
In result of successful subscription 50 credits will be added to your account. Credits are inner value for purchasing services on the website. Credits will help you get our services according to our pricelist.
You can read and write letter by using an icon .. or by answering on any letter from the inbox. Invite lady to a chat or private chat if she online, check her presentation video. With list of our services you can meet here. In the provided article we describe how our videochat works in details.
Step four. Now you have a full access to all services of the website according to your credits balance. You also can purchase additional credits from packs for a very good price. More credits in packs, cheaper they are. You can buy unlimited amount of credits packs any time.