[Updated: Jan, 2020] If you are new to our website, then welcome to your guide to creating a perfect account on Bridge of Love. Here are the key steps to your successful take-off in online dating.
Ideal Account on Bridge of Love in 3 simple steps
Registration
As you can see from the photo below, the registration on the Bridge of Love site is very simple. You need to fill in four required fields and press "Register now for FREE" button.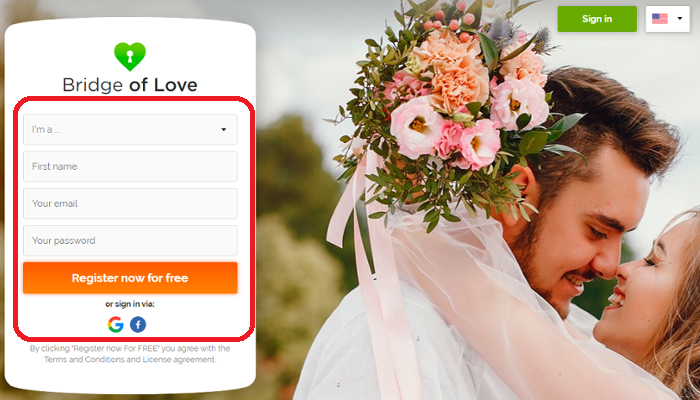 The good news is that the registration is very easy and … free! All you need to start your online dating adventure are your sex, first name, email, and a password. Yes, as simple as that! Sure thing, you are required to enter a valid e-mail address, just because you'll get an email with instructions from us to activate your account. Another way to go is to use either your Google or Facebook account to join the Bridge of Love community.
Please Note: The Bridge of Love strongly encourages you to have a close look at our License Agreement for the members of our site.
Login
If you are already a member of our website, you can use the sign in form and enter the information you used for the registration. The "Sign in" button is right there in the top right corner (see the image below).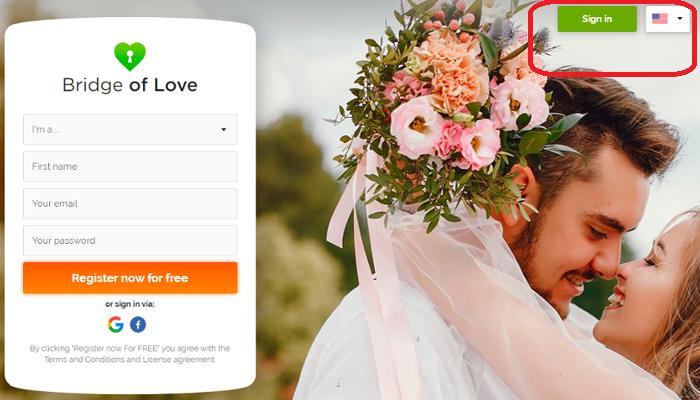 After you fill in the email and password fields, we advise you to tick the "Remember me" field too. This way you will not have to worry about forgetting your password. Smart, right?
Note that you can always use the (input) button of social networks to enter the site in one click. However, this is only available if you have previously activated your account within our site. Please make sure before clicking the (input) button of social networks that you are logged into a social network.
Can I delete / restore my account on Bridge of Love?
We conduct the purposeful policy of voluntary participation of all users on our site. If you no longer wish to be our member, and you are ready to remove your profile and e-mail address from our database write to us about it. We reserve the right to ask about the reasons for your removal, but it will not be intrusive. In a short time after your answer to our questions, your profile will be deleted. You are entitled to restore your profile one year after the removal on our site without saving the loan balance. (NOTE: At the time of removal we write off the balance!) To restore your account, you will need to contact our team and it will take us up to 1 day to get your profile back on our dating database.
Edit your profile
If you click on the empty photo section in the top right photo (see the image below), you will get access to the "Edit profile" button. Editing and creating a strong profile is a key to a having a top-notch account on Bridge of Love.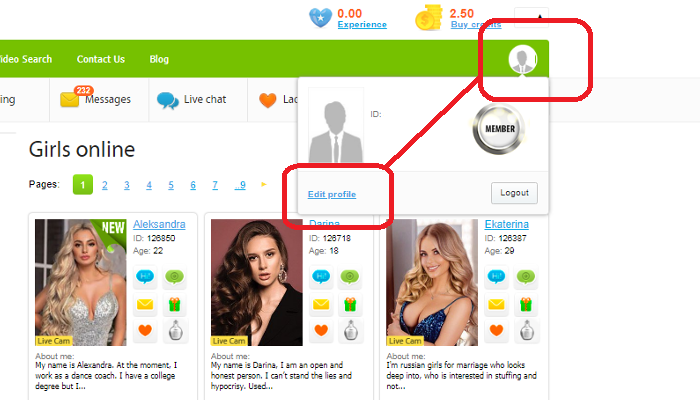 After you click this button, you will be redirected to your personal page where you can share all the information you want to with your potential partners. From our experience, we can say that both women and men prefer contacting a new member who has taken an effort and filled in all the fields in the form. Yes, from the date of birth to the ideal relationship section.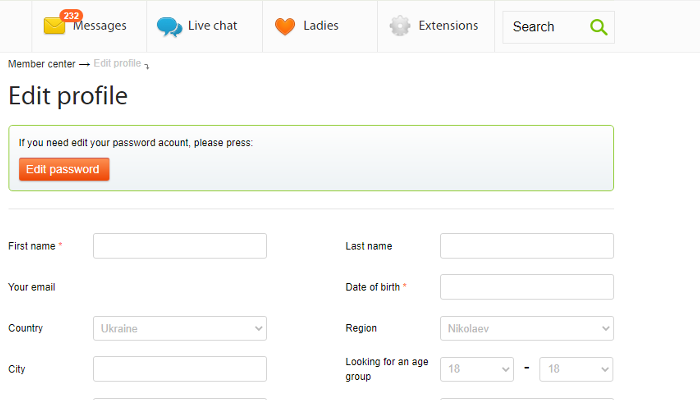 We highly recommend to pay special attention to the photos that you download, as they have great importance to your potential dating partners. It goes without saying that you need to have at least one photo that will be used as your avatar.
Start contacting potential dating partners
After you activate your credit card, you will get 80 credits for less than $5. This is when you can start flirting with girls and/or boys. PLEASE NOTE: We offer a Free Trial for all the new users!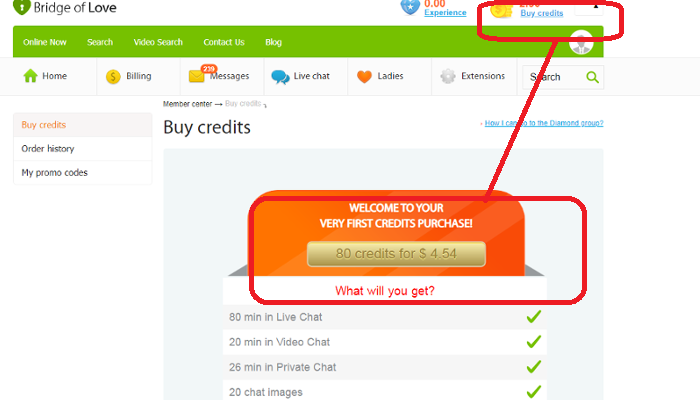 As you can see, our website boasts an advanced search functionality. Click the SEARCH button (see the image below) and start checking out the powerful search filters. To help you have a superb account on Bridge of Love, we have created about 25 different sorting options - from the color of hair to the weight.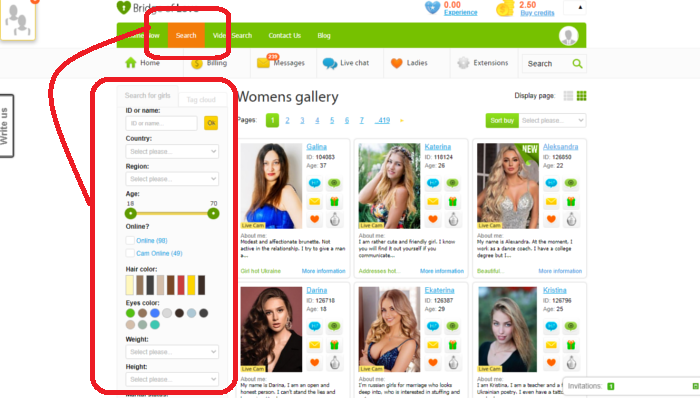 We hope that this post will help you to set up your account on Bridge of Love effortlessly. Let the fun begin!