Frequently Asked Questions
What is the website payment unit? How much does it cost in Euros and US Dollars?
Our internal payment unit is called a credit. All the site services are paid in credits. Purchasing credits our clients use them to pay for such site services as the Live Chat, Video Chat, and sending messages etc.
We do not set the fixed price for one credit. We offer you to buy a package of credits. The price of credits is really up to you. The more credits you buy the less each single credit costs you. You can see prices for the credit packages and your discounts either on your personal page clicking on the link Buy credits.
Why do I have to buy credits on your website?
Our website is a commercial project. However you must have already noticed that there is no commercials on the site at all. The purpose of our site is not only to help men and women to build up relationships but also to provide services to ladies who do not always have the possibility to access the Internet or dating services. Some of those women do not speak English, others are not familiar with the principles of communication on the Internet.
Besides wanting to find a decent man they are afraid of being seduced, deceived and disappointed by public dating service users. We help them to feel secure and on the other hand we can guarantee our male clients that every girl on this site is real,single, and has a great desire to learn English and to find love abroad. Moreover we can guarantee that there are only girls who have already come of age on our website.We constantly monitor and promptly remove all the profiles of girls who are not interested in our services any more, or who were caught in a lie or cheating.
We are working with the best dating agencies of eastern Europe, Russia and Ukraine. For a certain charge, our partners help us to find girls interested in marriage with foreigners , besides the dating agencies are responsible for providing our girls with poffecional photo sessions, Internet access if they need it, and interpreting or translation services if they have problems speaking English.Many agencies in cooperation with Bridge-of-love administration arrange dating nights and tours for our clients.
The professional team of programmers , designers, marketers , managers and interpreters ensure the work of the site. Their work is aimed at developing and improving the quality of our services. We are striving to reduce our expenses in order to bring down the price for you. Be with Bridge of love and enjoy our services and our prices.
Can I get credits for free?
Yes, you can. There is such an opportunity on our site.You have many ways to get bonus credits. The main ways to receive Bridge-of-love credits free of charge .
1. There are one-shot and regular tasks aimed at the most active visitors of the site. By performing such tasks you can get from 5 up to 70 credits (For further information regarding the tasks click here)
2. You can also promote our website among your friends and acquaintances in social networks, on your websites , etc. This activity can bring you from 10 up to 200 credits.
3. If you help us to improve our site and its services and uncover any cases of scamming and spamming you have the chance to get from 10 up to 300 credits depending on reliability of information and suggestions you provide. Bonus credits give you the chance to use the majority of the site services. To gain full access to all the site services you need to buy credits . Please note that we do not refund any bonus credits into your bank account under no circumstances
On my personal page my profile status is stated as "member". What does it mean?
The status of your profile is determined by your activity on our site. The more time you spend online, the higher your status is and the more benefits you obtain.
Currently there are 6 online membership statuses:

Find out more about your membership status and benefits it can bring.
Can I save money when buying credits?
The most effective way to save more is a diamond membership. It is an opportunity to reduce your expenses on our website significantly. Each user can get the diamond membership status and enjoy fantastic discount of 45% on the purchase of credits on an ongoing basis. In addition, the more credits you buy in one go the less money you spend. We recommend purchasing the bigger credit package because it allows you to save you money. Find out more about buying credits at discounts.
I have bought a gift for one of the girls. How can I be sure that she will get it?
We ensure the delivery of your present within 5 days since your payment. If you want to time the delivery of your gift for a special day, pay for your order in advance. You can monitor the delivery of the gift on the page Order history
On the very day when your girl-friend receives your gift you will receive a photo of the girl with a gift as a proof that it has been delivered. Besides your girl-friend will probably have the desire to thank you in the Chat or by mail. Thus you will make sure that your gift is delivered.
May I contact the girl from your website directly?
Of course Bridge-of-love provides you with the possibly to receive contact information of any girl from the site on conditions that the girl is not against disclosing her personal data. You can request your girl-friend's personal information using the "CALL ME" service. If you want to order a girl's information read here.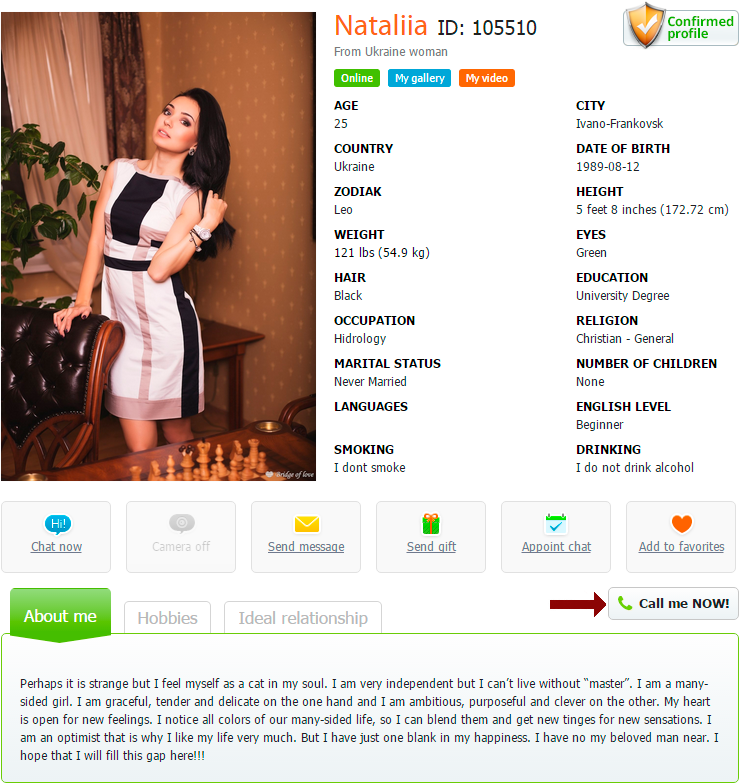 We then address your request to the girl and in some time you receive either her contact information or the credits you have been charged for this service back. Unfortunately if the girl is not willing to give her contact information to you, we are not liable to do that. Reed more please
I have accomplished your tasks but have not received any credits yet? What is the problem?
All the tasks on our website are considered to be completed on conditions that you have done the necessary piece of work and collected your bonus credits. To do that you have to go back to My tasks and click on Get bonuses button. In this case, the bonus credits will appear in your account instantly. Read more.
How can I monitor spending my credits?
You fully possess the ability to monitor and keep track of any changes in your account balance sheet. Besides you can also monitor the status of your orders. You have a special section that makes it possible to see the flow of your credits presented in a handy table.You are able to appeal against any credits withdrawals if you believe you have been mistakenly charged.
There is a 65 days limitation period for submitting a claim since the date of the order. Thus we reserve the right not to consider your claim if the limitation period has run out.
I used to be your member, then I quit and my profile was removed. Is it possible to recover my membership.
In most cases, it is possible if you know your ID or your email. In any case, you have to provide all the information and have access to the valid e-mail box that you provided at registration.
The e-mail address I provided at the registration is not valid anymore? Should I inform you of a new one I have?
The validity of all the data you stated at the registration is extremely important for us. However your e-mail address is probably the most important thing. If you change your mail box or lose access to the e-mail box stated at registration we may lose the connection with you and you may not be able to contact us or to have your password recovered when you need it. Besides your account, profile and personal page settings are connected to your e-mail.
To avoid any further problems, we recommend that you contact customer support and provide your new valid e-mail address. Thus we will be able to link the balance sheets of your account as well as the settings of your personal page and profile status to your current e-mail.
I forgot my password, what do I do?
It if you have full access to e-mail box you specified during the registration that solves your problem. Click on Forgot password?" and a new password will be sent to your e-mail. Make sure to add our e-mail address: support@bridge-of-love.com to the trusted senders list in your e-mail box
I do not want to receive any messages from your website. What do I do to unsubscribe?
To unsubscribe from our emails, click the "Unsubscribe" link found on the bottom of each message you receive from our website or our partner websites. However we do not recommend your unsubscribing if you want to remain a member of our website, as the information we send you is important and useful for our members.
I have sent a message to your support service but have not received any feedback.
Our email most likely was placed in your contact's spam or junk folders.The best plan is to make sure our address is whitelisted in your e-mail box. If not, all you have to do is to add support@bridge-of-love.com to the list of trusted senders. When you first start sending your emails, it is a good idea to whitelist our service as a trusted sender to avoid any blocking issues in future.
If you can not find the answer to your question do not give up. Each section contains more detailed information. Please use the navigation menu in your office to find the information you need. You can always make use of our Contact Us