Russian women are very sociable. They usually have a lot of friends, that is why it is so difficult for them to do without a phone. Sometimes it is called in Russia "to spend ages on the phone", because women really spend hours talking on the phone. Women in Russia often hang out with girl-friends to discuss their problems in life, recent events, tell secrets, or just gossip.

Russian women are very good wives and mothers. Most of them know how to cook well. Usually their houses are spotlessly clean. Moreover they are fond of taking care of someone. Sometimes, when a woman has nobody to take care of, she sees no sense in doing something just for herself. For example a good friend of mine (whose dishes are usually delicious and in her house it always smells of pastry) cooks nothing when her husband is in a business trip.

In this country women are of great character. There is even a saying that "A Russian women can stop a horse at full gallop, and can enter a burning house. It is true that Russian women are very resolute and brave. It goes without saying that they will do their utmost for the people who are close to them. Despite the fact that Russians are women with a strong mind, they, like little girls, want to be protected by a reliable man who is stronger than them and is ready to take responsibility.
Russians, even regardless of the amount of their salary, spend most of it on fancy clothes, stylish shoes, trendy bags, etc. It is well know all the women of Russia are trying to look stylish, attractive and elegant, because it is very important for them. Thus Russian women take all the efforts to look very neat and very smart. That is the reason why they are popular with foreign men. Foreigners who come to Russia say that local girls are dressed as if they have just stepped from designer showrooms.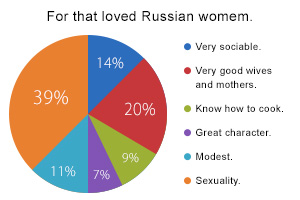 A man chatting with a Russian girl with for a few hours in the bar, club or restaurant get a sheer enjoyment out of the conversation. As for a European woman, men claim that they can spent a few hours chatting with her only in case they want to get laid.
Russian women really enjoy compliments and react positively to them, while American women often expect some trick or harassment from a man who complimented her.
Americans say that a Russian woman is like a bank. The more you invest in it, the more you get. In the opinion of Germans, Russian girls are very beautiful, but they are not so good at housekeeping. Nevertheless they also consider Russians to be rather sympathetic, extremely frank. Russian women are always willing to help — say Germans.
Swede say that Russian women are not so independent and snotty as those from Sweden. They are much more modest and friendly.

Macedonians say that Russian girls are great in bed.
Irish people consider Russian girls to be perky. What they also like about Russians is that they are not fusspots and never worry about unimportant things.
Americans report that their women prefer them to be obedient to the point of servility, while with Russian women it is possible to relax. Besides Russians are devoted wives and mothers.