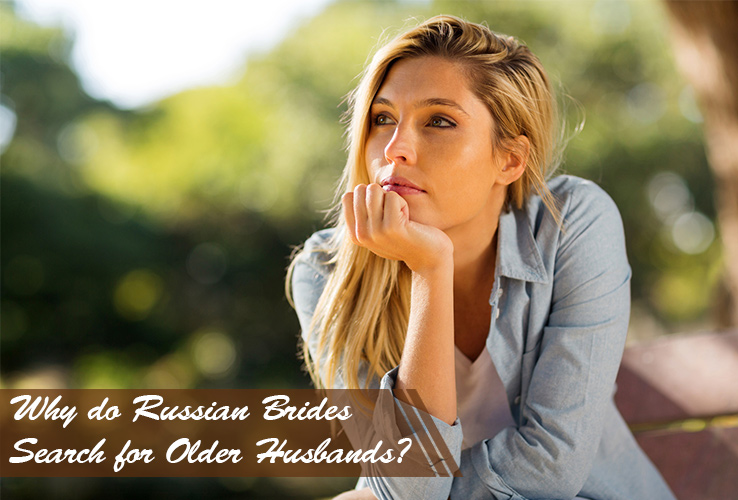 Life is so interesting and exciting due to its everyday uncertainty and mobility. When you visit various countries round the globe and meet new people, you get involved in the atmosphere of local way of living. You can easily find all the answers to all your questions only if you communicate with residents. What questions do you have about Russian brides? It is believed that one of the most common is why they get married with older men. There are 5 reasons why they really do so.
Russian girls lack dads' care and love
It is a common practice that Russian men do not take care of children at all. That's the duty of women to run the household and grow up kids. Little girls see how their dads come home late and how they leave early in the morning. A great percentage of kids do not meet with their dads. The situation is pessimistic, but that's reality. Little girls grow up and search older men to share all the love and care that they have gained since the day of birth. If you marry a younger Russian woman, you will get so much attention that you will never regret it.
Older men are ready for marriage
If you ask any Russian girl and women whether they want to build relationships with older men and why most of them will tell you that older men are ready for marriage while guys of same age devote their lives only to wrong addictions and one time dates. Russian girls are ready for marriage when they are twenty in case they come from little cities. Living in big cities dictates its rules, so girls want to get married at the age of twenty five. At the same time men hide any desire to marry under the mask on indifference or ignorance. He can be ashamed if he dreams about family life.
Older men know what they want
Russian brides respect and admire men having personal life views and opinions that do not change every day. Personal experience, skills and knowledge can be gained only with time, so young guys do not meet the needs of modern Russian women. Emotions and feelings rule the girls and prompt what decisions to make in every situation. They really need wise and intelligent husbands to correct the route of their thoughts and behavior. You can change manners of a younger Russian bride if you prove your love and desire to marry her.
Younger men look like children
Russian women treat men who are younger as kids no matter what age they are. It happens subconsciously with every single female in Russia. Mothers do not marry their sons, therefore women choose older men to become their husbands. Maternal instinct is very strong, so if you date an older female, you will fill it with every piece of your soul. An older man makes any woman feel confident about future outcome of relationships. Woman like handsome men with strong facial features and a shade of gained experience.
Older men value their wives
The greatest pain that can any man cause is absence of interest to his beloved. This special feature of character makes girls avoid dating young guys if they plan to get married soon. Evaluation of appearance as well as actions will grant any male several points to his reputation. If your bride cooks a meal, you will impress her if you comment on the dish with appraise and thanks. You will melt ice if you prove you value your relations and describe your future plans where there is a noble place for your bride.
Conclusion
It is necessary to add few words about marrying a young Russian woman. They do not pay attention to appearance of their only ones. Only inner manners and traits can influence the decision to build relationships with you or not. After you dive into the ocean of love and romantic dates, you will discover hidden talents and skills with the help of a Russian bride. Once you have decided to find a woman for marriage, do not miss an opportunity to have at least one date with a Russian bride.