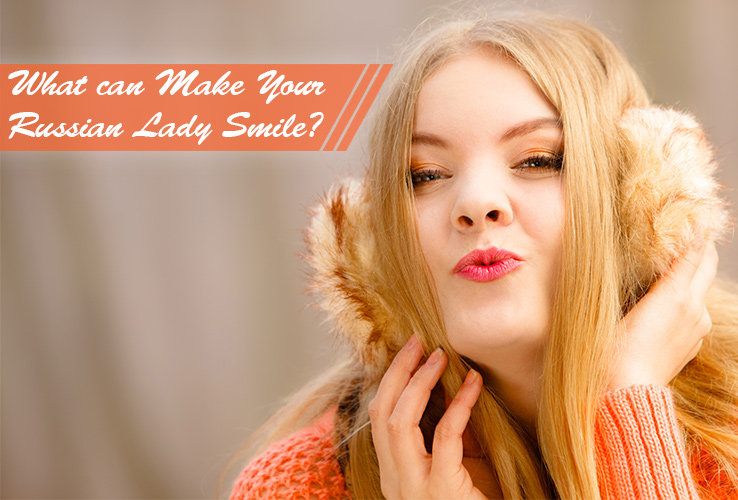 Have you met any person who does not smile? The answer is predictable: you have not. If a girl does not smile, it means that you did not do your best. Russian women smile and laugh only in friends' company. It looks weird if someone smiles without a reason in Russia. To make any woman smile and get positive emotions from you, the article will provide little advice for newbies.
Advice for newbies
1 Learn several Russian jokes by heart and test them on your mates first.
2 Practice funny body positions and facial expressions in front of the mirror to surprise an attractive girl in a public place.
3 Wave a hand and greet an unknown girl as if she was your old friend.
There are other ways to make your Russian lady smile in case you know at least something about her interests and hobbies. Use the following issues to see a smile on her face as many times as you are not lazy to make her do it.
1 Make one of her dreams come true. Do not go away with disappointment. It does not have to be an expensive gift. Some Russian girls dream about new look, so you can take her to the beauty shop and ask the staff to change her appearance. Do not dismiss sales days and various coupons to get the discount. Your bride will shine with a smile for several days. You can do this once a year.
2 Behave differently during one day. Do whatever comes to your mind, but do it without hesitation. For example, you can do all the chores in her clothes while she will have to repair the car in your outfits. Do not even think to criticize your bride's work with the car. You will get opposite results. You can do it once a month.
3 Use your fantasy to declare your love so that other people could read it also. You can buy advertisement on the nearest billboard or ask to play your movie in the cinema. You have no limits except your fantasy. Your bride will be surprised only if you keep everything in secret until X time. You can do it twice a year.
4 Everyday smiles. You try various things on the bride and watch the reaction. Examples of everyday smiles: jump instead of walking, dance together in the kitchen; pinch her soft body parts etc. The goal is to examine preferences of the bride and never use exaggerating attempts again.
What should I do if I cannot make her smile?
It sometimes happens that you do your best and nothing happens. You should know that there are no negative results of attempts, so read the following notes about your behavior and appearance.
If you want another person to smile, you have to smile as well. If you tell a joke with poker face, nothing will happen. Your words should coincide with facial expression.
If you failed all the attempts yesterday, repeat them today and tomorrow or any other day. Maybe a Russian girl was ill or she had the worst working day in her life.
You can make girls smile both online and offline. It does not matter at all how you do it. The result matters.
You may be too provocative, so use various attempts to reach the goal.
If you want something madly, you will always get it. If you realize why you have to make the bride smile, you will see the most charming smile in the world. No matter she smiles rarely. Enjoy every moment and keep in mind that the smile hides a great excitement behind itself. It is you to learn a Russian bride smile and enjoy every second of life with you.