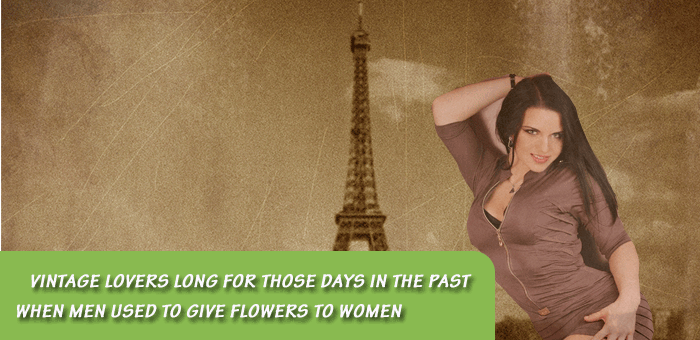 Despite of endless number of online dating websites, pickup books, dating advices in magazines, so many people are still feeling awkward when it comes to meeting a new person or going out to pick up someone. There is a rather big group of people who find the whole modern concept of using texting and social networking to meet someone new incredibly wrong. Just look around and notice how many couples have gotten together after chatting on Facebook for a couple days and then meeting and making out the next day. Vintage lovers long for those days in the past when men used to give flowers to women, leave notes at their doors, sing songs at their balconies, and so on. The difference between old-fashioned dating and the modern one is huge. Let's look at the idea behind vintage dating in more details below.
You may wonder what is so wrong about meeting someone online and getting to know a person inside and out before going out on a date. This way of getting acquaintance has a right to exist, and it may actually work for some people but not in the vintage world. Old-fashioned men choose their woman based on the attraction and chemistry they feel, and they do not need months of talking and endless texts to realize she is the one they want to be with. Once a man who is into vintage dating finds his charming girl, he makes sure she knows about his intentions. See, the thing is doing it old-fashioned way means you have to actually work for it, spend hours courting after a girl of your dream to try and win her heart. A few compliments sent via private message just will not do.
Now that you are probably even more confused, let us give you a short vintage dating guide. What do you do if you meet a girl who does not have any profiles on social networking sites or would never even consider signing up on a dating service? What do you do when she is clearly the one who waits for a man to make the first steps and show his interest? Vintage or retro-style dating, as some people may call it, implies you have to be persistent, yet reserved in your advances. An old-fashioned girl wants to see words of love and affection which you have written on a piece of paper. She needs you to help her carry a bag of groceries to her door. She can appreciate sweet bouquets of wild flowers and does not need to receive jewels on special occasions to know that you care.
Traditional or vintage dating concept also suggests you meet in places which are not that popular among your coevals, such as libraries, museums, historical societies, or parks. Any old-fashioned quiet places that are visited by intelligent people will do. Another thing you should be ready for when you decide to date a girl who is into vintage is that you will not be getting any sexual activity after three or five dates. There is even a good chance she will not do it with you until you propose to her or actually marry her, and then everything will happen on your first wedding night. Actually, if this can put you off the whole idea of vintage dating, you may want to think about it twice. As more girls are now being dumped by their boyfriends after living together for several years, many of these women start to like the idea of not giving their body to men before marrying them.
Vintage dating has never really become old, as there are specialized clubs in some cities and countries where proper ladies and gentlemen can meet each other and know that they already share the same approach to relationship. Even if you feel you are not ready for it yet, just try applying some old-fashioned manners in your everyday life, and you will see how differently (in a very good way) women will start treating you.