If you are planning a trip to Ukraine, you might want to learn what international airports there are in the country and how well they operate. Ukraine has over ten airports that receive international flights. They are located in Kyiv, Chernivtsi, Donetsk, Ivano-Frankivsk, Izmail, Kharkiv, Kryvyi Rih, Luhansk, Lviv, Lymanske, Mariupol, Mykolaiv, Odessa, Rivne, Simferopol, Ternopil, Uzhhorod, and Zaporizhia. However, in this article we will take a look only at a few largest airports of the country.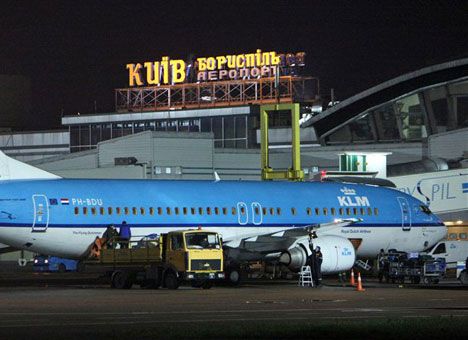 Boryspil International Airport
is Ukraine's biggest and busiest airport. It is located in Boryspil close to Kiev. There is a big chance you will be flying to this airport, since that's the place most of international flights arrive to. Boryspil Airport has been founded in 1959, and during the first few years it served only the flights from and to the countries of the USSR. The airport has started receiving international flights in 1980s and since then has been developing its infrastructure, terminals and runways. Currently, the complex of the airport comprises four terminals, two of which serve international passengers. The newest international terminals are D and F, and most likely you will find yourself in one of them when you arrive to Ukraine. There is also a VIP terminal where you can get the highest level of service and comfort. The airport has a shuttle bus service between all four terminals in case you need to move from one to another.
Boryspil Airport has free wi-fi
connection in international terminals, as well as a big number of restaurants, stores, beauty salons and banks to choose from. The airport has two hotels, one of which is located right at the airport and another one is 4 km away. Here is a list of some of the largest airlines that Boryspil Internatinal Airport works with: Aeroflot, Air Arabia, Air Astana, airBaltic, Air France, Air Moldova, Air Serbia, Alitalia, Austrian Airlines, British Airways, Czech Airlines, El Al, Emirates, KLM, Lufthansa, Norwegian Air, S7 Airlines, SunExpress, Swiss International Airlines, Turkish Airlines, and Ukraine International Airlines.
The passport and safety control in Boryspil Airport is the same as in any other big European or American airport. You as a passenger will be required to show your luggage and bags before you are allowed to board the plane. There is a list of objects and substances which you are forbidden to carry, and you can find it on the official website of the airport. If you want to learn the passport and custom control rules, this information is available on the corresponding websites of Ukraine.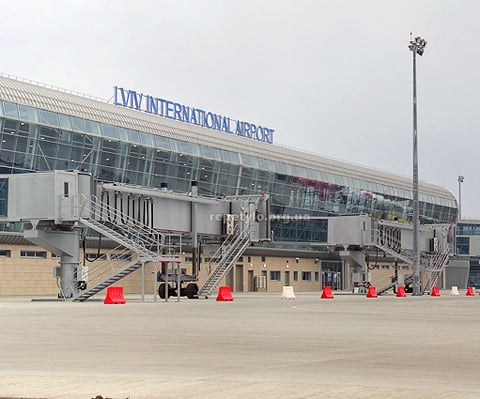 Another large international airport that serves most of the
Western Ukraine is International Airport Lviv.
The airport is located 6 km from the downtown of Lviv. It has been modernized for the European Football Championship that took place in 2012. A new passenger terminal has been built, and the runway has been redeveloped. The airport is currently receiving international flights from Austria, UAE, Israel, Greece, Prague, Germany, Turkey, Egypt, and Italy. International Airport Lviv has over 1000 free parking places, business hall, luggage storage and fast registering service. It also has VIP boxes for passengers who wish to get the highest level of comfort, as well as the duty free, bank offices, coffee shops and various stores. Check-in rules are the same as everywhere else in the world. The check-in for international flights closes one hour before the flight. Passengers are required to go through passport and custom control and are not allowed to carry certain objects and substances, the list of which you can find on the official website of the airport. Lviv airport provides a pick-up service which can be quite useful if you come to Ukraine for the first time. A car will drive you to any place in Lviv.
More information on international airports of Ukraine is available on their official websites. If you are looking to travel to a certain city, find out if its airport receives international flights. If it does not, choose the international airport closest to your destination.