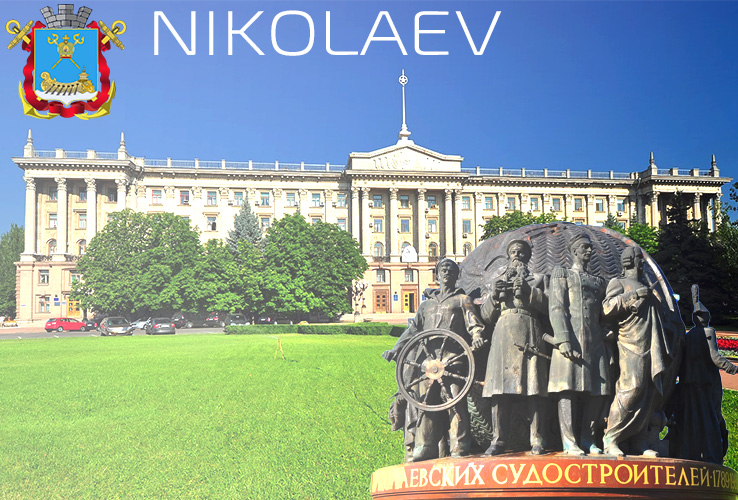 If you want to visit Ukraine – on of the cities in your "must visit" list should be Mykolaiv. It is a big industrial city in the south of Ukraine with a population over 450000. It was founded in 1789 by Grigori Potemkin. In the past Mykolaiv was a center of shipbuilders and shipbuilding. Now, however, shipbuilding is in decline.
Mykolaiv oblast has turned into a resort for the local people. Advantageous geographical location and access to the Black Sea giving such a possibility. The black Sea resorts in Ukraine is unpopular among foreigners, in vain. Amazing beaches and pure water isn't inferior to worldwide-recognized Turkish resorts. Sunny sands of Koblevo and Ochakov will be unforgettable memory. Extremely chip, comfortable and amazing bungalows and villas on a beach is the critical advantage of spending a summer in Mykolaiv oblast. Usually, resort season starts in May and ends in September.
Are you interested in visiting Mykolaiv? Than read more about the city and it's wonderful resorts.
Koblevo.
The most amazing thing of Mykolaiv resorts is cheapness. For example, if you want to visit one of the most popular Ukrainian resorts – Koblevo, you need to find hotel deals. There is almost no chance they to communicate with you in English. You'd better use the help of a telephone translator to help you make a deal with the hotel. All deals are unofficial and you need to pre-pay for reserving a number. Transfer from an airport is also possible to arrange in advance. Ok, let's hunt for prices.
Dollar in Ukraine is really valuable. There is a big variety in prices depending on different living conditions. For example, standard double room (in some hotels – deluxe room, but for real – it's standard) in a hotel for three person family, will cost you from 30 to 75 dollars, depending on a location and a season. During the height of the holiday season (usually 13.06.15 – 30.08.15) prices are higher: 50 – 100$ a day. Two floors/three rooms villa in a coniferous forest (50 meters to the Black sea) will cost from 140 to 200 US dollars a day (depending on a season). However, beginning of a summer and even the end of a spring are amazingly warm in Mykolaiv oblast, so you can save your money.
Koblevo has pretty developed infrastructure as for a resort village. Waterparks, different watersport activities, dolphinarium, yachting and hang-glider flying are not extremely expensive and pretty safe. Markets and clubs are just everywhere! You can also try famous vine of Koblevo, visit different excursions and just chill in the shadow of pines listening to the sea.
Kinburn Spit
However, Koblevo is not the only option for spending your summer holydays with benefit. Kinburn Spit is Heaven on Earth. Lakes and forests, the cleanest Black sea (cleaner than Turkish or Bulgarian), amazing wild places – gazers, therapeutic muds and untouched nature are the amazing distinctive features of Kínburn Foreland Nature Reserve. So, for spending one day on shores of the open Black Sea you will spend:
► For a standard number: 22–30$, depending on a season.
► Deluxe room is about 34 – 43$
► Two floors bungalow with the pool will cost you 80 US dollars a day
This resort isn't widespread among the people of Ukraine, that's why prices are lower. Moreover, infrastructure of Pokrovka village (only place for buying food and drinks) is poorly developed: no clubs, public WCs, souvenir shops, etc. However, hotels have all necessary for living. One more thing: you'd better to agree in advance about transfer to a hotel (taxi and private motor boat – about 90$), because it's pretty hard to get there by yourself using public transport. So, if you love comfort and wildness in one vial – Kinburn Spit is a perfect choice for you.
Talking about beautiful places in Mykolaiv oblast:
Granite-steppe lands of Buh.
Landscape park, situated near to Mihia village. It's famous by its rushing rapids granite rocks as well as by wonderful nature. If you like active rest, you can arrange a picnic or camping. It's a wild place, so take care about supplies.
Olbia.
For lovers of antiques. Olbia was an ancient city of Greece, founded in 7th century BC. Open-air museum where you can to check out ancient Greek culture, way of life and householding. So, if you like excurse to the history of the ancient Greece – you're welcome!
Visiting romantic places and having fun in Mykolaiv!
As for city itself – it's pretty interesting for leisure activities. Here, you can visit the best zoo in Ukraine. If you want to learn more about it, please visit the official website of the zoo.
Also, check out two academic drama theatres, philharmonic, regular concerts of the organ music. Two tickets on a 3D movie, for example, will cost around 5 dollars. Nightclubs, pubs and restaurants are also really cheap. One restaurant dinner for two persons will cost around 15$, including: 20 inches pizza, two chocolate desserts, 300 grams of salad and two fresh juices. Meal in Mykolaiv is really cheap. From other places, which you can visit with your girlfriend we can distinguish romantic Yacht-club and the main street of the city – Sovetskaya, which ends with shady Flotskii Boulevard. The entertainment center of the city is so-called City-Center (restaurants, shops, bowling, billiard, cinema, etc.)
The most romantic place of Mykolaiv is Yacht-club. This is a club, situated on the river Southern Bug. Here people for all over the city gathering to spend time with their girlfriends and boyfriends! Romanticism of this place is in beautiful buildings and wonderful view on the Southern Bug. Here you can visit coastal restaurants as well.
In addition, you can visit city waterfront. This place is the end of Flotskii Boulevard. In summer, you and your love will be able to visit open-air cafés and restaurants, if winter – to walk on a thick reliable ice.
Also, in winter you can check out the city ice skating rink! Storm of emotions and romantic atmosphere provided! It's cheap and fun! Your girlfriend will be thankful to you.
Seasonal conditions in Mykolaiv.
The weather in Mykolaiv is controversial. Very warm summer – up to +40 °C and cold winter – up to -20 °C. The best weather is a late spring and the beginning of a summer. It's warm and pretty dry. Trees and streets are green and clean. Flowers and greenery are everywhere.
Winter in Mykolaiv is cold and dry at the beginning. Average temperature in January is –5 °C. It's snowing up to 30 centimeters; sometimes all infrastructure of the town is paralyzed. However, town covered with snow looks gorgeous and fantastically!
Spring is cold in the beginning and hot in the end. Snow is melting in March. Trees becoming greenish in April. Flowers bloom in May. Wonderful flowers of chestnuts and cherries will be an unforgettable memory! Regular temperature is from 0 to +25 °C.
Summer is very hot, however, not dry. Rainfalls are regular, especially in June. This is the resort season in Mykolaiv oblast. +28–+32 °C.
A lot of people consider autumn as the worst time of a year in Mykolaiv. Trees shed their leaves in the end of September. This is looking a beautiful in parks and on streets. Regular rainfalls and winds are really cold. Also, it's pretty muddy, so take care about your shoes. Temperature ranges from +20 to -1 °C.
How to get to Mykolaiv:
► From your homeland to Kyiv international airport.
► From Kyiv international airport to Odessa airport – 30$.
► From Odessa to Mykolaiv on a taxi – 50$.
Living in Mykolaiv:
Never stay in national hotels/hostels. They unfit for habitation. Rent of a house is simple. No contracts, you just pay and live.
► Three-room apartment (Euro-standard, deluxe) will cost 285– 330$ per month.
► Two-floor 4-5 rooms Euro-villa will be around 1000$ a mouth.
The city is waiting for you. People here are friendly (in a daylight) and ready for a communication. If you would like to visit Mykolaiv – you're very welcome!