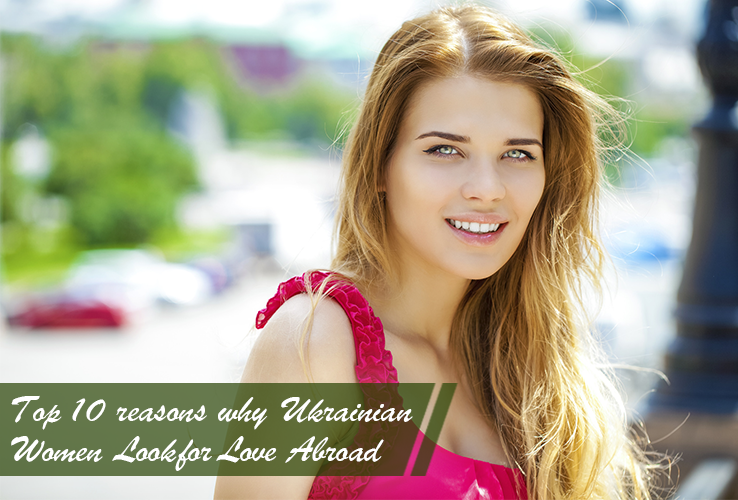 It is not a surprising fact for most people that many American and even European men are interested in dating Ukrainian and Russian women. But many men are puzzled why Ukrainian women are looking for a love abroad. It is hard to believe that such beautiful women cannot find the right man among men in their country. Nevertheless, it is true. Critics of international relations and marriages think that Ukrainian women are only looking for ways to leave their country or to get a green card. It is hard to deny that because, unfortunately, there are women who pursue their interests. However, the majority of women have genuinely different intentions. Here are 10 possible reasons why Ukrainian women look for love abroad:
Russian and Ukrainian women had unfortunate experience with their men. Slavic women are attracted by American and European men because they honestly believe that these men are traditional and value family. It is a very important criterion for Slavic women who value family more than material wealth.
Slavic women are curios. One of the reason why Ukrainian women create accounts on international dating web sites is curiosity. Some of them confess that their female friends met their real love on online dating web sites. It makes them want to try too, especially those women who have had bad experience with men in your county.
It can be real fun. Online dating web sites open new horizons – they provide Ukrainian women with opportunity to meet new people and discover new cultures and even improve knowledge of foreign languages.
She knows you will let her be a woman. Not all women in the world are overwhelmed with feminist moods and movements. Plenty of women in Ukraine and Russia consider that feminist movements have spoiled men because some Ukrainian men are only happy to place all responsibilities on women. A Ukrainian woman is willing to be with a man who will let her be a woman and will take care of her while she is giving him an opportunity to be a leader.
Ukrainian women are looking for stability in relations. Ukrainian women believe that men from America are more faithful in relations unlike Ukrainian and Russian men. If a man decides to be with her that does not mean he will change his mind in 5 minutes.
Intimacy is not all you want from a woman. It is believed that unlike Russian and Ukrainian men, intimacy is not the first thing that American and European men would want from Ukrainian women.
They are really finding a better life abroad. The fact that some of them are really looking for a better life abroad does not mean that Ukrainian women are selfish and cheating. If you marry a Ukrainian girl, you will have not only a good wife and loving mother for your children, but also a faithful friend. Various conditions make women from Ukraine and Russia look for relations and a better life abroad.
Ukrainian women are attracted by men from other countries just like American men are attracted by Ukrainian and Russian women. Ukrainian women are open to new cultures and are attracted by men from other countries.
American men tend to be better husbands than Russian men. American men dedicate much more time to their wives and kids in comparison to Russian ones. Most Ukrainian and Russian men spoiled and egoist. A typical Russian man thinks that can attract any woman and does not value the one he has now. Whereas American men are believed
American men are more stable and secure in supporting their families. When getting married American men know that responsibility for supporting his family lies on him. With this kind of man a woman will feel secure and protected.