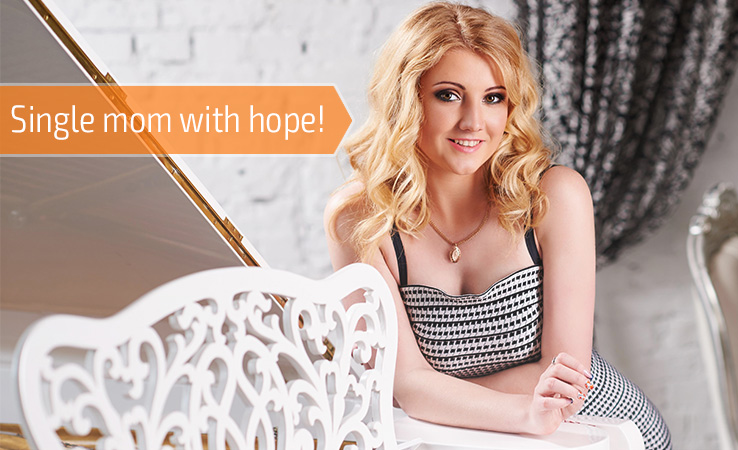 Russian girls are now considered to be quite positive candidates for datings and even marriages with European guys and chaps from the USA. However, it's more about the situation when a girl is pretty young, attractive, and without children. But if you happened to get acquainted with a Russian single mom with hope for mutual happiness it also can be a good chance to change your life in a positive way. The only possible pitfall on the way to happiness in such situation is the chap's attitude to dealing with women that are single for the moment but that were married at one time.
Actually, when speaking of brides from Russia, most of foreign guys dream to find girls without children, but if this fact has nothing in common with your way of thinking – you can try your luck with moms and there's nothing weird about it. All in all, you'll be pretty sure that she can have children and there are no health problems for this issue from her side. However, the process of dating with moms really can differ from dating young and single girls without wedding experience. The tips below will help in online dating with possible Russian match of yours to come to conclusion concerning the possibility of meeting in reality and chances of happy mutual relations in future.
► Ask a lot about the child. Any Russian mom is dreaming about the happiness of her child and this issue is really of tremendous importance to her. It means, you may like her a lot but if you aren't showing the same attitude to her son or daughter she won't become the match of yours.
► Avoid speaking of ex-husband. She definitely had not shiny relations in the past, so it's needless to stir it up. You'll have plenty of possibilities to conversate about it in future, but at the start of your possible mutual life-being it's strongly recommended not even mention the existence of someone before your acquaintance.
► Hint at the opportunity of immigration. If you've been chatting for long and there is a straight thought in your mind alike: "I want a Russian wife and she's surely the one!" you need to show her your positive attitude to the immigration issues. Moreover, she has to be sure that both she and her child will be in safe in your country and the mutual life together will be positive and you'll never reproach her. However, this'd be done only if you're completely sure that without her you won't be able to exist, otherwise try your luck with some other Russian cutie without children.
Those three simple tips are really the key ones for chatting with Russian moms. They really differ from the suggestions for communicating with those without children when the most important things are your admiration and the size of your wallet. However, dealing with a Russian girl who has got a child is quite risky issue. So, you must think more than twice before going too far. Imagine the dating with your native girl of the same status. It's quite complicated, isn't it? And if it's a foreign lady the things could be extremely problematical.
However, if you feel that everything could be ok, feel free to develop your chatting to something more. Who knows, perhaps two of you are doomed to happiness.