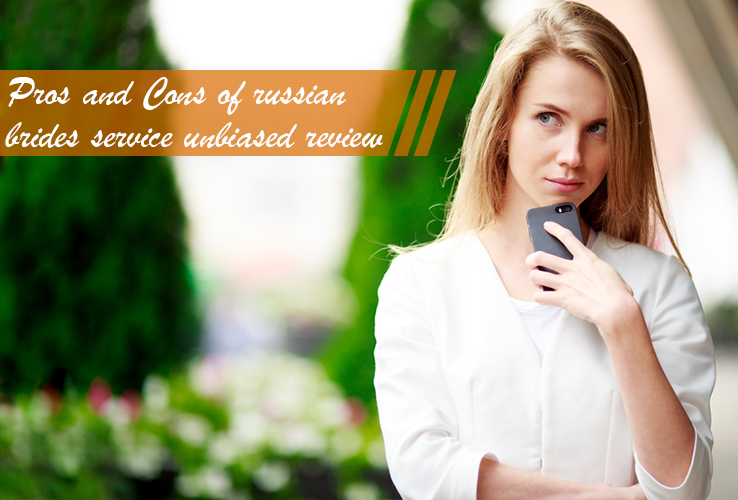 Russian women are very popular not only among American men but also among men of some European countries. No wonder. Russian ladies are well-known for being beautiful, smart and talented. A great number of men from western countries are dreaming about dating Russian women. Some of them might think that all they have to do is to come Russia and meet local ladies. As a matter of fact, it is not the best way as there is no guarantee that a particular woman is willing to have any international relationships. This is where Russian brides service comes at help. Dating services have greatly improved over the years. It is much easier to meet and fall in love with Russian ladies on international dating sites and marriage agencies as they are seeking the same – relationships.
Men who are not familiar with online dating web sites should take some time to read pros and cons of Russian bride service. It will help develop the right approach to online dating and increase chances to find the right one.
Pros
Russian bride services provide men with access to a great amount of profiles of Russian women who are looking for the same – international relationships. A man will not find himself in awkward situation as he knows that they are on the same side from the very beginning.
Professional marriage agencies save time of their clients and eliminate possibility of being scammed. A man can be sure that a woman he is chatting with is real. However, it is advised to use services only of established agencies that have proved to be effective and real too.
A man has opportunity to get to know a woman better before taking her to a real date. Online dating saves his time and money in such a way as he does not have to send money on dinners and restaurants just to get to know a woman better.
Russian bride services are good option for shy men and introverts. Most of these men are quite handsome, have good prospects and sense of humour. They experience difficulties with meeting beautiful women as simply need some time to open. Online dating increases their chance to find love as helps them open up in conditions that are comfortable for both individuals.
Apart from being beautiful and intelligent, Russian women are said to be good wives, caring mothers and wonderful house makers. Russian bride services give an opportunity to find one of these incredible women.
Cons
Too many options can be a bad thing too. Having access to so many profiles, some men get lost – they simple become confused as they like several girls at the same time. It is a well know fact that the fewer choices one has, the easier is to make a decision. A great number of potential partners make a man hesitant whether he has made the right decision.
Finding a good Russian bride service agency can be difficult for men who are not familiar with this industry at all. Unfortunately, there are web sites that have been created for scamming – getting money from foreigners. The key to finding true love is to find established and verified dating web site.
Men get quite limited amount of information from online profiles of women. Information presented online usually refers to educations, hobbies and preferences. A man might create his own image of a woman he is chatting with that will be different from her real personality. For instance, when a woman indicates in her profile that she is a movie fan, a man might think she watches different genres and knows a lot about cinematography. But when he begins to discuss movies on a real date, it appears that she watches mostly chick-flicks.
Even though Russian brides are really wonderful and have a lot of great qualities, online profiles are mostly about appearances. Men get attracted based on physical features of women. Having an abundant choice of beauties, plenty of men forget that decisions should not be made based only on appearance but also on other features of character.