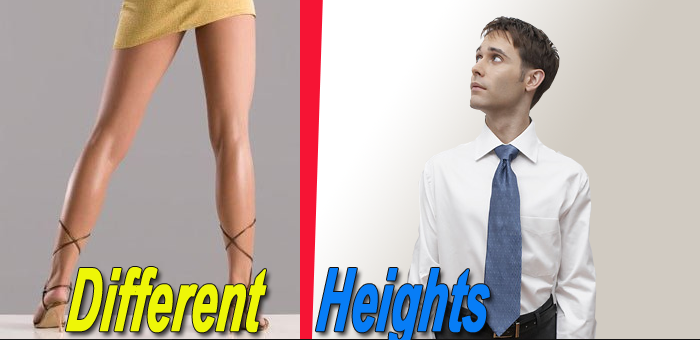 If you look around, you will see many couples with height difference. Many tall men prefer petite girls which creates some difficulties when they want to have lots of physical contact, such as kissing. Of course, you can avoid kissing altogether or do it only in bed but that would not be too much fun for your relationship. After all, you may want to kiss when meeting your girl for the first or second time. Let's look at some nice positions you can use if you and your partner are of different height.
The easiest thing to do for a man is to kneel to his girl for a kiss. However, if it is a French kiss, you won't be able to make it long. If you are home or in a private environment, tell your girl to stand on a chair or a bed. Your faces will be at the same level, and you will be able to give her as many types of kisses as you want. It can be a soft or hard kiss on her lips or her neck, and you can also use your hands to pull her closer. She can even wrap her legs around your waist and let you lift her and press to the wall. When you are of different height, you are much stronger and that means you have nice control over her body which is very exciting. There is lots of room for creativity here, so do not be boring!
Another perfect position for a tall man and a short girl is to kiss while sitting on a sofa or in a car. If you read some Russian romance books, you will notice how many relationships and passionate affairs start this way. It can also become your source of inspiration. You can draw in for a kiss, and then pull the girl on top of you. Not only is it a very comfortable position for both of you but it will also make you very hot and maybe lead to some great and memorable making out!
In case you have never been a fan of kissing and do not have much experience in this regard, you can search for tips free online. You will find different step-by-step instructions that will teach you all the right moves. Do not do it all according to a textbook, though. The girls can feel this thing very well. Be natural and let her lead the way if you do not feel confident enough. We know that men prefer something more real and pleasant but you must try and become a great kisser if you want to get a girl. Remember that kisses do not just include putting your tongue in a girl's mouth. You can kiss her whole body, leave a hickey and show your passion. If you devote yourself to this process and watch your partner's reaction, there is a huge chance she will ask for more.