I am greeting you, my dear! How do you think what we need for our happiness? That's right - we need love and an ability to travel all around the world. Moreover, it is desirable to travel with the one you love! One small step forwards my dream I have already done. Yes, this small step was so frantic and so important for me. I have already stated travelling and the first place that I visited was one of the most ancient and mysterious countries in the world. The name of this country is Italy. However, my trip was shaded by one fact - I had a trip alone, without you!
Nevertheless, I don't despair because I am sure that we will visit Italy together next time. Now I know lots about Italy and I will be able to show you everything there! Honey, are you ready to hear my story? If you are, I am going to start my narration about the things that I saw in Italy. Well, let's get it started!
Italy is a country with the most ancient and magnificent history; the country of emperors and fence plays; the country of elevations and depressions; the country of legends and immortal heroes; this very country is a cradle of Christianity. I can't stop admiring with this place. I can't literary describe the feelings that I felt being there. My trip covered two Italian cities - Rimini and Bellaria. Despite the facts that these two cities are situated on the Adriatic seaside and they are the biggest resort cities in Italy, they are very different.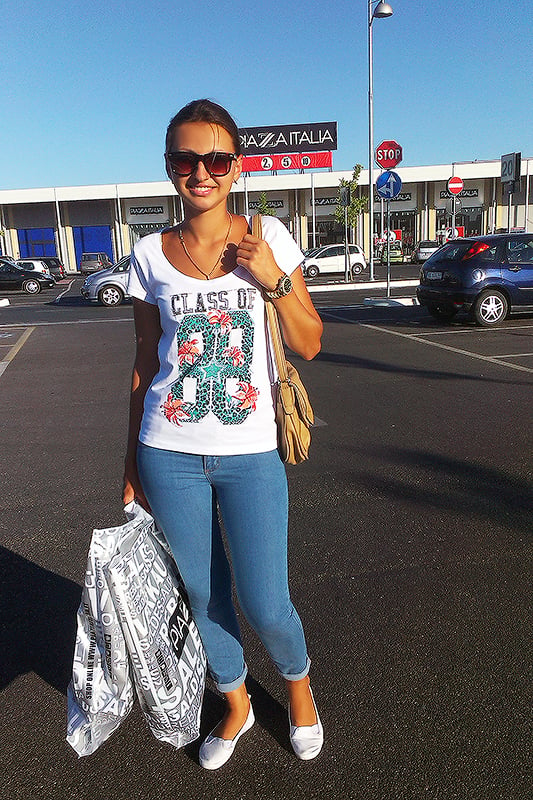 Rimini has gained my heart! If you could only see all the beauties of the city, you would fall in love with its night streets, warm summer breeze and local color. Oh, you can hardly imagine of how this city is overflowed with passion and mush. The air is filled with spirit of the old days, which enriches you with its epicism and mystery. The soul of Rimini stroke a chord in my inner world and like a talented maestro di cappella forced to play a pleasant melody within my heart.
The first place that I attended in Rimini was a park "Italia in Miniatura". This park represents the entire palette of European sights but in miniature. The park is rather big - 85 square kilometers and it contains approximately 270 architectural buildings!!! Can you imagine this? It goes without saying that all buildings are smaller than archetypes but it doesn't mean that they can't impress you! I spent the whole day strolling along the park. I must admit one interesting peculiarity of the park - all entertainment complexes are free here. This option rally helps to have a rest during your route in this park. I was so tired after strolling the park but I didn't regret about it. I have seen the whole Europe during one day long. I spent my time next to Tower of Pisa and Eiffel; I had a trip along various castles and palaces; the whole Europe was spread before the eyes.
Last days were less intensive. I visited Malatesta Temple that was built in 12 century. This place is the hottest spot of Rimini. It was built by one talented European architect Leon Batista Alberti. The locals are very proud of the temple; moreover, they bring it to the level of Leonardo da Vinci. The temple is not big. I would call it a toy of a church but it is very elegant and comfortable inside.
I couldn't resist my desire of visiting the Bridge of Tiberius. The second local name of the bridge is "Devil's bridge". The bridge is so old and solid that local people believe that it was built with the help of sinister forces. Wow, I felt some kind of fear being there. But you must see it by your own eyes because the bridge is magnificent and beautiful. The age of the bridge is more than two thousand years! Can you believe it?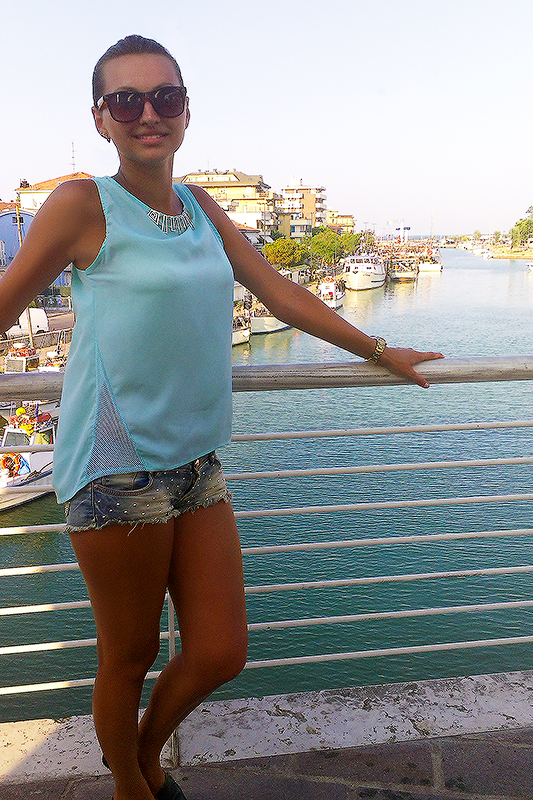 I was upset leaving Rimini but the next stop was Bellaria. Bellaria is a resort city, which is famous with its white sand, emerald sea and romantic sunsets. It was created just for lovers. It is saturated with love and tenderness.
Here I had an opportunity to have a rest beneath the sun enjoying with the local beauties. I also visited Seashell Museum. I would have never thought that out nature could create an ideal beauty at the bottom of the ocean! Bellaria is full of various chapels and cathedrals that I want explore with you! I dream about our trip in Italy; I believe that my next journey thought the former Rome Empire would be with you!