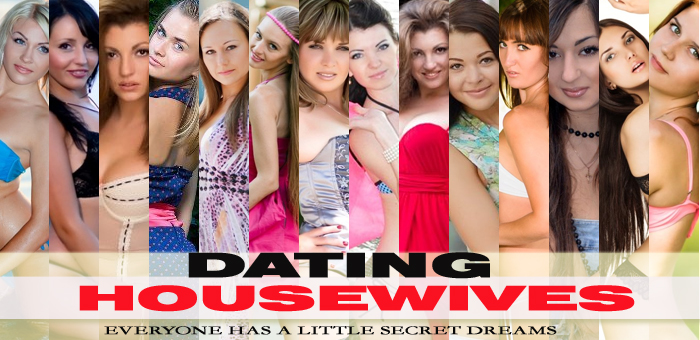 As more and more women are becoming successful in their careers and as the technology improves, the ability to work from home or simply manage your business and finances via a tablet or a laptop becomes extremely common. The women get a chance to become real housewives and still have a stable income that allows them to have a decent life style and take care of themselves and their family.
Surely, this also means the increasing number of housewives on a dating scene. These ladies have all the time in the world. They are sophisticated, sassy and beautiful and know what they want. They can have several dates a day and look for a man who will truly match their criteria. Unlike many other women in the modern world, the housewives know what they are worth: they look after themselves on a daily basis, they keep their home clean and flawless, and they are great cooks and perfect lovers. As a man, if you want to get all this in a woman, you must have a real personality and something to give to her.
Housewives are not spoiled but they can appreciate your generosity and attention. A bouquet of flowers, a nice piece of jewelry – these presents can go a long way with a housewife. Poor men with bad taste have little chance with a woman of this class. A housewife values a man who knows how to earn money, who is smart, intelligent and educated. He should not work too hard though, because in the evening she expects him to be home and enjoy the delicious dinner she has made for him.
Housewives are often divorced women with children. It should not scare you off because the experience of marriage is an important thing. You may fall in love with a young girl who has not had any men before you but there is no guarantee she will be good in family life. Housewives are perfect if you want an experienced woman. When a housewife chooses you as her life partner, you can be sure she will not leave you in a month. A sophisticated lady knows that good men are the ones to keep. You will feel the happiest and the luckiest man in the world when you are together.

At the same time, housewives are normal women, and every woman wants a decent one–woman man who will make her happy. Never underestimate a beautiful smart woman. She can feel good without a man in her life, that's why she will let you enter her house only if you can give her something that she does not already have, if you can make her life even more complete than it is already. It is hard, but the reward is worth it.