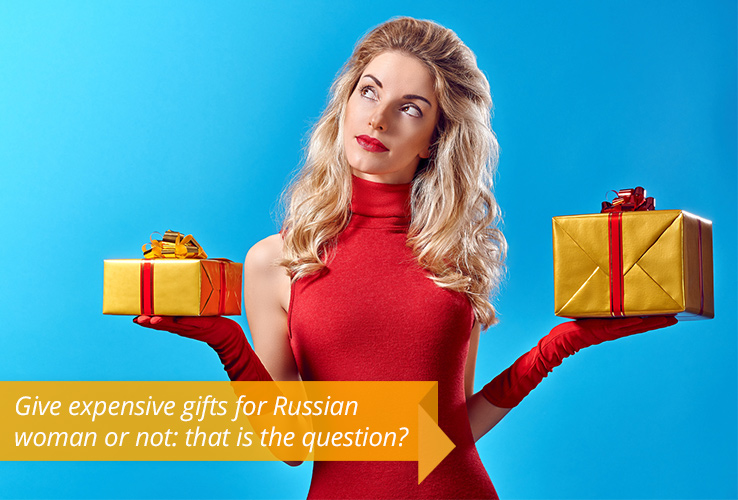 Everyone likes to receive and give gifts and Slavic people are not an exception. And it is one of the cultural traditions people adore to follow the most. Russian women adore receiving presents from their loving men and usually think of them as a symbol of their love. With the present people usually try to express their feelings and gratitude towards the person and consider a gift as a sign of attention. But, nonetheless there are quite a few situations when financial side of the matter can worsen the relations, especially when it is too expensive or inappropriate present.
As a rule, the more a man loves a woman, the more he wants to impress his beloved with various spontaneous actions and brave deeds. And in most of the cases such actions are related to presents. But not every woman would appreciate this gesture from the young man, especially if it is done at an early stage of their relations. And she can easily find a bunch of reasons both quite sufficient and absolutely ridiculous to deny an expensive gift.
It is important to stress that the most common cause of refusal to accept the gift is the feeling of awkwardness and the fear of being obliged to do something for a man in a response. After all, if you just met and started to show the signs of heightened attention with such expensive presents as jewelry, huge bunch of flowers, and so on out of hand, you are very likely to be treated as a person who wants to 'buy' her.
The other side of the coin
It is natural that there are women who might like such presents but as a rule there are not that many of those who do not stick to moral principles. As soon as they find a man with great financial opportunities, they would immediately leave you without any hesitation. So, it is better to think of the views of the woman who easily accepts expensive gifts.
Sometimes they may start asking you for expensive presents pointing out that in their country every man give them such ones for every holiday to present theirs respect and gratitude. In this case you should think twice before taking any serious step and consider her request as a proper one. Think of how long and how good you know her, if she really deserves such gifts and the most important watch her emotions and actions in case you deny this request. Some people even say that you need to run away from such woman if she starts to ask you for more than you expect.
To do or not to do?
Some people do not recommend to win a woman with expensive presents at early stages of relations even if your budget allows you to do so. It is always better to meet, talk and get to know each other better and better and gradually show the signs of your attention, so that to show yourself in a more cheerful light at each meeting.
Every woman likes flowers and Russian women are not an exception. Just imagine her shining smile when she unexpectedly got a bunch of flowers from her loving man. Every colour has its meaning and women know it, so think carefully when you choose a bouquet. They also like sweets, chocolate, and boxes of candies, jewellery and perfume. Just remember that not a price but the attention matters the most. And if you want you can use our service to send any gift or flowers to your beloved woman without any effort.
And the best thing is not to give her simple gifts, but various tickets to cinema, theatre, trips, walks, that would allow you to spend more time together in a pleasant atmosphere. You can invite her to botanic garden for example, when it is exactly the period rose blossoming or when there is a butterfly exhibition and have a great time together.