[Last Updated: May, 2020]
Congrats, you have just registered on our website! Sure thing, now you want to know what first steps in online dating you can take. First of all, we want to thank you for choosing us! If you are lonely and want to find a perfect place on the Internet for meeting beautiful singles, then you made the right choice!
Our website provides a whole range of dating services such as mailing, videochat and private chat, presentation videos, gift delivery etc. This short article will help you to understand features of our website better and navigate online dating with ease.
First steps in online dating
Verify your E-mail address
After the registration, we will send you a letter and a link to confirm your registration. Click the link in your letter and you will receive only important messages from our website!
Please, note that if during registration you have provided our team with a wrong email address, feel free to contact our team immediately. The same goes for situations when you want to change the email address you have provided earlier to a new one. We will do our best to help you with any registration issues.
Build up your profile
We hope that you understand that all the information you mention about yourself in your profile has to be accurate and relevant. Of course, you can edit your profile as often as you want to or need to. Make sure you add a photo to your profile! Girls love that!
Start searching
The third step is probably one of the most important steps in online dating with Bridge of Love. Just start looking for an attractive girl online. To do so, you need to go either to Girls Online page or Search Now page. As you can see on these pages, on the Bridge of Love website you can find a lot of profiles of girls, all looking for a long-term serious relationship, love, and personal happiness.
To find your #1 lady, you can make use of advanced search filters. For starters, you can search profiles by ID and name. You will find your lady faster if you will add more details to the filter. Thus if you select 21 using the age filter and then add the city filter - Odessa you will get results for all the female members of the site who are 21 and live in Odessa. To start a new search, please clear all the filters in the gallery.
Also, you can simply look through the ladies' profiles and choose a girl who seems attractive to you. You can start communicating with girls via different types of chat rooms or by answering any inbox letter. Feel free to invite a lady you like to a chat or a private chat if she is online. Remember that you can also check her presentation videos.
Activate your credit card
To get in touch with ladies, you will need some credits on your account. We absolutely understand that you may want to test our Bridge of Love dating services first. That is why we offer you to buy 80 credits for less than $5. With this amount of credits, you will be able to look around and start dating online with ease. For more information, please see the image below.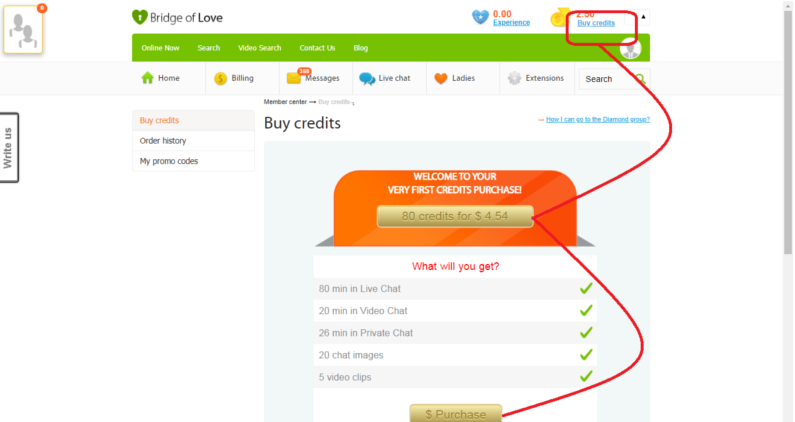 Start dating online with Bridge of Love today!
As you now understand, your first steps in online dating on Bridge of love are as easy as ABC. Our dating website is a perfect place for serious relationships, dates, real meetings. We aim at high standards of online communication at all times!