[Updated: Dec, 2019] Visit to any new country, especially for the first time, is always an unforgettable experience. Ukraine is not an exception. Before planning a trip to this beautiful place, foreigners try to find out information about its peculiarities. They are eager to know if they can use their credit cards in Ukraine. Other issues that foreign guests are interested in include Ukrainian etiquette, level of English. They wonder if Ukrainians speak English and what to do if they don't. One of the most frequently asked questions refers to cell phone communication. In particular, whether it is necessary to purchase a sim card in Ukraine.
The first visit to Ukraine is usually a short one. Most foreigners come for a week or two. The most typical goals are dating in Kyiv and Odessa. Does it make sense to buy a local sim card for phone calls in this case? Let us try to figure it out.

To Buy or Not to Buy?
Imagine that you have everything arranged beforehand. You have booked accommodation and ordered a transfer service. Thus, a driver will meet you at the airport holding a piece of paper with your name on it. Of course, this very moment you don't need to call anyone. You will reach your point of destination fast and effortless.
However, the next step is to contact your fiancée and inform her that you have arrived. Yes, there is free WiFi in every hotel or guesthouse to take advantage of. Thus, you may send a message, using it. Still, with a local sim card, you will feel more comfortable.
Advantages of Obtaining a Sim Card in Ukraine
The benefits of buying a sim card in Ukraine are obvious. First of all, you are free to call wherever you want and need. Occasions may be different. And it is more convenient to stay connected rather than not. Do you want to talk to your Ukrainian girl day and night free of change? Choose the same provider and you will have an unlimited opportunity to do it.
Moreover, a prepaid sim card offers you more than just calls. You will have minutes for calls. They are usually unlimited within the network. You are also given a certain amount of minutes to call to other networks and abroad. Furthermore, the package includes text messages, and, what is more important, the Internet data. Of course, public WiFi zones are available almost everywhere: cafés, hotels, shopping malls. However, with a local sim card, you are free to order everything you want right away. There is no need to look for the nearest WiFi spot to order a pizza. Especially if you have a rest somewhere in the park.
Do you want to buy a special gift for your Ukrainian girl? It is better to purchase it via the Internet rather than trying to find something in the local shops. While making an order, you will have to submit your phone number. And when your order is ready, the delivery service will either call you or send a text message to the cellphone. Thus, a local sim card opens more opportunities!
The last but not least advantage refers to your safety. Imagine that you are lost somewhere in an unknown city. You try to ask people for help but they don't speak English. The only solution is to call your fiancée or someone you know in this city.
Where to Get a Sim Card in Ukraine?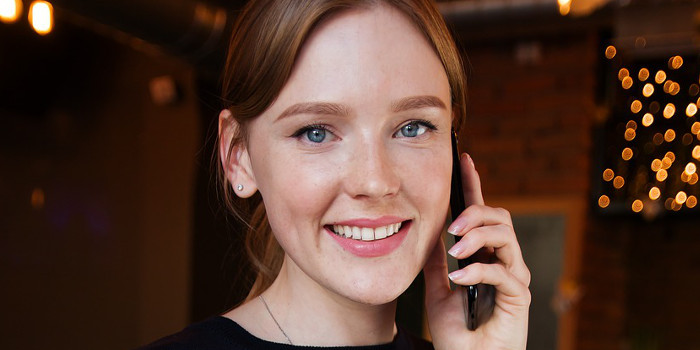 It is easy to purchase a sim card in Ukraine to stay connected. One may buy it almost everywhere. You may get it at the airport, railway station, or the official operator service center. Do you need a piece of advice on the best suitable plan? Find the nearest service center to receive answers to all your questions. Moreover, the staff will also help you activate the card on your cell phone.
As for the providers, there are three major ones. They are Kyivstar, Lifecell, and Vodafone. In fact, there are other mobile operators in Ukraine. Still, the mentioned ones are the most reliable.
Which provider is the best one? It is a difficult question. Kyivstar and Vodafone offer approximately the same quality of services in terms of connectivity and the amount of data. Thus, it is advisable to choose between them.
Even if you stay for a week or two, you may need to top-up your phone. There are different places where you can do it, not only at your provider's store. However, the easiest ways are either via a special application or on the official website of the provider.
A Sim Card is a Must even for a Short Term Visit
Therefore, it certainly makes sense to buy a sim card in Ukraine even for a short-term stay. You will feel much more confident and secure. There will be more time to communicate with your fiancée. Moreover, being connected to the Internet, you will have more opportunities to enjoy your trip to this beautiful country.