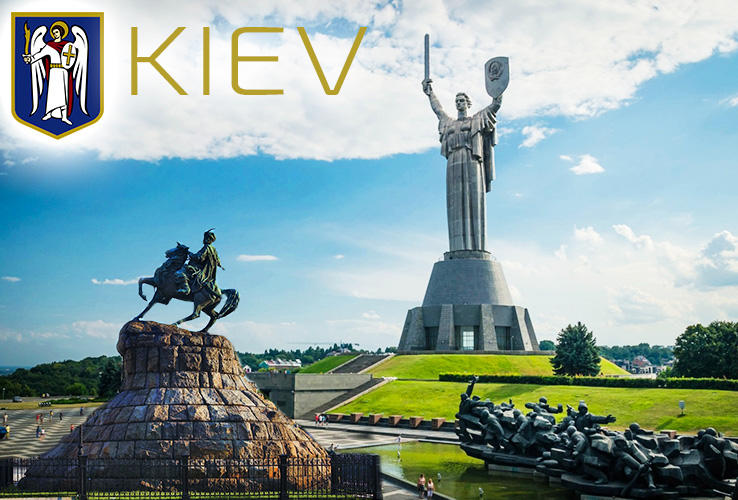 Dating in Kyiv can be a lot of fun as Kyiv is the capital and the largest Ukrainian city with the population of about 3 000 000 people. It was founded in the 5th century A.D. and has a great historical past. There're lots of amazing sights in this wonderful city on the river Dnieper. Moreover, dating in Kyiv is exciting as here you can find the most beautiful single girls on this planet! Check some of the single girls profiles here!
How to start dating in Kyiv
Transport
The train or a car is also a nice way to get to Kyiv but the plane is still the best variation in terms of comfort.
There are two airports in Kyiv. The main one is Boryspil International Airport which is located about 36 km from the center. It's will cost you about 250+ UAH (around 10 EUR) to get to the center using a taxi. Of course, it's possible to use the bus for this matter but it's recommended to use taxi. The main companies which have English speaking drivers are Happy Go Taxi and Lingo Taxi. You can also try Uklon taxi services.The drivers can easily meet you at the arriving hall with your name on the sign (of course if you've booked this option beforehand). Do not use the services of illegal companies – they're more expensive and usually insecure.
The second airport is Zhulyany Airport which is located about 8 km from the center. This airport is much smaller and is served usually by budget airlines. It will cost you about 50-70 UAH (2-3 EUR) to get to the center by the taxi. Alternatively you're free to use the bus which is cheaper but less comfortable.
Accommodation
Lots and many hotels are opened for you with the price starting from 350 UAH (about 15 EUR) and further depending on your wallet-size. Closer to the center the hotel is situated – higher the prices are. This fact is the same as in any big European city. Also there are many agencies which propose to rent a dwelling. The price starts with the same amount as in hotels, but a flat can be much better for a long period of living. Moreover, you can rent apartments in the places where there are no hotels.
However, there are several periods when the prices are twice as high. Those periods are: 30.12 – 10.01 – New Year and Christmas holidays; 01.05 – 10.05 – May holidays; Several days before and during 28.06 (Constitution Day) and the same about 24.08 (Independence Day).
Food
If you decide to start dating in Kyiv, then you will be impressed with the number of cafes and restaurants here. It is not a problem to find a Chinese or Italian, or even Indian restaurant in Kyiv.
However, we recommend to check out cafes and restaurants that serve traditional Ukrainian dishes. Note that it is much cheaper to visit a restaurant in Kiev if compared to any other European capital. It's highly recommended to visit "Lipsky Osobnyak" – the finest restaurant in capital of Ukrainian cuisine. Also try out "Shynok" and "Pervak". However, if you prefer something exotic, visit "Buddha Bar Kiev" – the restaurant which has the longest bar in capital and offers exotic dishes of Asian cuisine.
Also there are lots and many fast-food eating places, so the chances of staying hungry for long are about zero.
Where to have a romantic date in Kyiv?
There are thousands of places when you can enjoy dating in Kyiv. Here are some of them:
Historic places
Khreshchatyk Street is the greatest street of the capital which is usually closed from traffic on weekends. It's a great place to wander around for a pleasurable pastime and to feel the wind of Ukrainian dignity. Plenty of cafes, restaurants and boutiques are situated there and this street is the most "living" one in the whole city.
Maidan Nezalezhnosti or the Independence Square is a place on Khreshchatyk Street perfectly known throughout the planet due to the Orange Revolution in the year of 2004 and the Revolution of Dignity in 2014. It's the symbol of honor of the Ukrainian nation.
Kiev Pechersk Lavra is the diamond among all the monasteries on the territory of a former Soviet space which was founded in the 11th century A.D. It'd be nicer to observe with your eyes than to read a lot about it.
The St. Sophia's Cathedral belongs to UNESCO World Heritage. It was founded in 11th century and for the moment represents the world's greatest collection of frescoes and mosaics of that period. It's been an active church up to 1934 and from that year it's a museum.
The Motherland Statue is a great masterpiece established in the midpoint of the museum devoted to the events of WWII. The museum has only few English speaking excursions per week but even without knowing a word in Ukrainian it would be great to observe the statue from the close.
The Andriyivsky Uzviz is a street where St. Andrew's Church is situated. Also it's a perfect place for tourists with lots of sellers of souvenirs, various restaurants and museums.
The Golden Gate is a spectacular tourist place which shows the deep past outlook of the central entry to Kyiv and the city-walls in the age of Kievan Rus. It's a good place to take pictures and admire the past.
Romantic places
If you want to organize a date in Kyiv, then choose one of the places below for your special night:
Lovers' bridge (Mariinsky Park)

Fountain of desires (St. Michael's cathedral)

The tree of happiness (Navodnitsky Park)

Zamkovaya Hill (Andriyivsky Uzviz)

Bridge of kisses (the Glory square)

Dream Town Aqua park – it's one of the biggest in-doors places of such kind in Europe (about 24 000 square meters). Lots of various slides, pools, and current rivers can make happy about 3500 visitors simultaneously.
Dating in Kyiv: There are so much to see here!
Remember that Kyiv is a wonderful city in the heart of Europe, so why not visit it this year? Who knows, maybe there is someone special in this city waiting just for you?