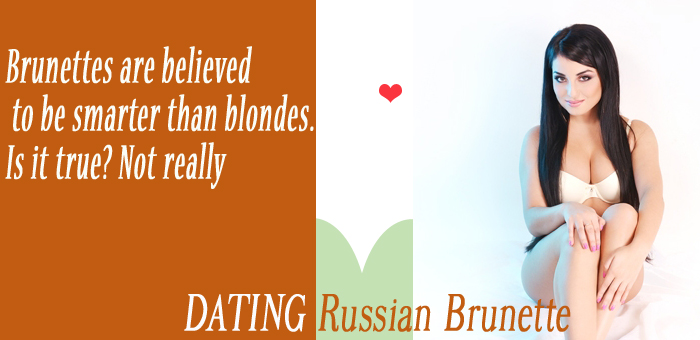 Some people may argue that hair color does not matter. What matters is a person inside. However, dating a brunette and a blonde can be two radically different kinds of experience. In this article we will discuss some stereotypes regarding dark-haired girls and help you decide if a brunette is the girl you need to date.
Brunettes are believed to be smarter than blondes. Is it true? Not really. Girls with both hair colors can be smart and intelligent. But this first myth has some truth to it, too. It is a fact that blondes often easily get what they want because, well, you know, gentlemen prefer blondes, and all that crap. That makes brunettes work for what they want a little bit harder, and in its turn, it also pushes them to study more and use their mind, not appearance to achieve goals.
Still, dating a tall slim brunette is not a rarity. Brunettes can be beautiful and sexy too. But are they as liberated as girls with other hair color? Or are they reserved in bed? It is believed that women change their hair color to darker shade when they want to show to men that they are not an easy catch. It can also be a sign they are not willing to experiment and try something new when it comes to sex. Again, it is a bit of a stereotype, and every girl is different, so you will have to see it for yourself.
Most men prefer dating brunettes with blue eyes because there is nothing hotter than a combination of dark hair and piercing eyes that remind you of deep oceans. But there is also another reason why men may choose brunettes over blondes. The latter group simply attracts more attention, and not every man wants others to stare at his girlfriend and maybe even try to flirt with her. You must have already seen couples where a man is quite handsome, while his woman looks boring and blank. Some might even wonder why men are attracted to these girls. Well, not everyone wants to marry a hot tall slender brunette. Some guys search for stability and safety in their relationship, and sexy girls just cannot give them that.
Dating a tall leggy brunette is quite an adventure and a risk all in one. If you enjoy watching fashion shows or looking through men's magazines, you may have noticed that currently most models are brunettes. Dating a girl like this means you have to work really hard and keep surprising her and giving her presents to show your devotion and love. There is a reason why men prefer brunettes: they seem easier to satisfy and to please. But tall brunettes with model appearance are the opposite of that. They get so much attention and have so many admirers you may end up being replaced by someone who is ready and willing to give her more.
Brunettes are so popular on a dating scene also because men just love dating exotic women, and pretty much every Chinese, Colombian or African-American woman has dark hair. That's why you see so many famous actors and politicians marrying brunettes – there are just more of them in the world, and the choice is bigger.
Having said all that, dating brunettes is a great choice for men who look for stable and satisfying relationship and have had enough of light-headed blondes. A brunette is a perfect girl to introduce to your family and is not the one to be used only for fun. And even though we have mentioned many stereotypes above, do not try to apply all of them to your new dark-haired girl when you just start going out. We have said it before, and we will say it again: every girl is different and needs different approach. As long as you are attentive, gentle, kind and nice to her, dating a brunette will be the best thing that has ever happened in your personal life