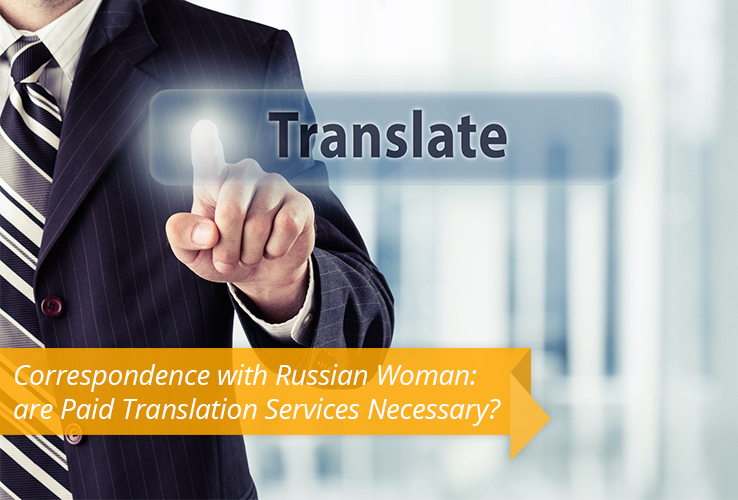 Have you ever talked to a person speaking another language? Language of gestures helps sometimes to find the right way or the nearest mall. However, you will not be able to use it when communicating with someone via the Internet. Fortunately, we can use the services of dating agencies to destroy any obstacles on the way to happiness. Translation of messages has become one of the most popular options that everyone is ready to pay for, but let's think if we really need them.
A clever human can speak several languages
Everyone will consider you to be an intelligent personality if you speak several languages. When a man searches for a bride, he should make an impression of a successful individual who can clearly and precisely express his thoughts and views. Do you need such services in this case? When you speak the language of your interlocutor, you gain scores of respect. When you send messages or emails using Russian, you will easily impress your Russian woman. It is you to decide if you want to use such an approach or just use your own language and do not worry about complete understanding of your words.
It is better to inform the partner that you use paid translation services to make your communication better. Make sure you choose a reliable dating agency with experts in translating not only bare words, but feelings and emotions that these words express. You can have a short talk with the experts and check whether they understand the ways you want to cooperate with them. You can ask for translation of messages into Russian as well as messages of the Russian woman into your language.
Typical problems of translating personal messages
In case you can easily speak Russian, you may face some problems with spelling or word order in sentences. One more problem you may face is the use of collocations and proverbs when creating a love letter. You are likely not to understand everything that your girlfriend wanted to tell you in her message. Most of the words have various variants of translation, so you will play a game of theory what the women had in her mind when writing it. Too many pluses go for translator services, but there are situations when you do need them.
Before deciding to use paid translation services of dating agencies or try your own knowledge, draw a picture of correspondence with a Russian woman in your mind. Will you have all your messages translated or only the most important ones? Everyone makes his or her own choice about how to build up loving relationships and what means suit better for this purpose. If you see yourself using online translator machines, try to translate the sentence into Russian and then translate the Russian sentence back into your language. You will see the cons of such way of interpretation of your words.
Who can chat without paid translation services?
If you both know any language of the world enough to express your thoughts and share opinions, use it no matter what it is. C1 and C2 levels allow people communicate freely without any serious problems. Once you have decided you will unite your fate with a Russian woman, start learning the language. You relationships may flow into private erotic language lessons about parts of your body or any other things you both can't live without. If a Russian woman can speak your language freely, it does not mean you can relax and do nothing with it.
Translators are usually creative personalities, so they can help you with making up the story. It is better to choose one person to conduct the correspondence from the beginning to the moment you are ready to keep in touch alone. You do need the translation services after you have been using them for a long time and you have already found mutual interests, hobbies and activities as well as words to describe them. If you still hesitate about paid translation, try both variants of self-made and translated by an expert messages and wait for response. Good luck!