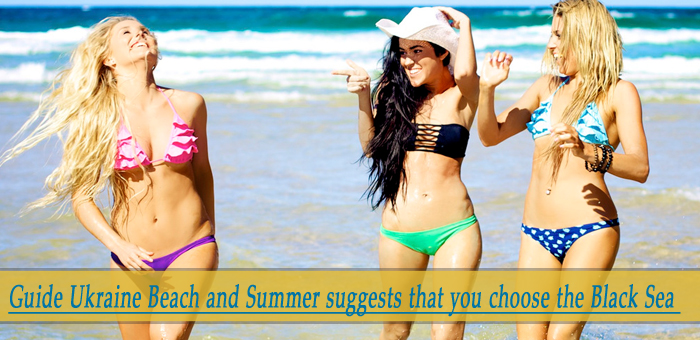 Everyone loves summer, especially when you get to take a holiday and go to the beach. If you are single, you are lucky because you will be surrounded with hundreds of beautiful ladies in tiny bikinis. The choice is huge, and the temptation is unbelievable. What do you do about it? Do you just lay there and stare or do you approach these Odessa beach cuties and introduce yourself? Whatever tactics you opt for, one thing you can be sure of: you will have an incredible summer and create many wonderful memories.
Now that you have started reading this paragraph, you are probably wondering why there is a mention of Odessa? Well, it would be a waste of time to go to any other beach rather than the ones in Odessa, since that's where all the hottest ladies are. Ukrainian women are believed to be one of the most beautiful and attractive girls in the whole world, and if they are single, they will definitely be all over you once they learn you are a single foreign man. Just show your interest in them first, and then you will be taken care of for the rest of your holiday.
Guide Ukraine Beach and Summer suggests that you choose the Black Sea resorts and one of the best hotels in Ukraine for your holiday. Odessa is famous for its beautiful clean beaches, and people there will not disappoint you, especially if you have not been to this part of Eastern Europe before. The nation is extremely friendly and kind and has a great sense of humor which you can appreciate even if you do not know the language.
Once you have settled in your hotel, ask for directions to the nearest beach and find your perfect sun lounge. Order a cocktail or a bottle of beer and look around. See all these beautiful ladies? They are wearing very revealing swimsuits and walking seductively along the beach. Quick tip: since many but not all Ukrainian ladies are looking to marry a foreigner, you will easily find out if she is up to dating when you hear her speak English. When a woman is preparing and making plans to leave her country for good, she starts studying the language in advance. Well, while you are swimming or sitting at a bar sipping your drink, start talking loudly to someone to let everyone know you're a foreigner. You won't have to do much after that: every girl who heard you and got interested will approach you the first.
Meeting a woman of your dream on the beach is becoming more and more popular. You as a man get to see a girl's body, watch her move and talk in a relaxed atmosphere, and, well, the sun and heat always help to melt any heart, even the coldest one. Whereas this girl would never even look at you in a daily life, she might be up to a chat if you approach her and tell her the right compliments. Just be courteous and do not insist if you see that she is not that interested. No one likes intruders. Here is one more tip: if a girl is wearing a one-piece or a tankini, she might not be liberated enough to date a foreigner. Look for girls who wear strings, thongs or very hot (and tiny) two-pieces
Another great way to meet new girls on the beach is bringing lots of sports gear and water toys with you. Start a game, and every open-minded and fun lady in the area will soon join you. Nothing brings people closer than exercising and laughing together. If you see a company of girls who have come to the beach together, they should become your main target. When the girls are together, they do not feel any threat when a stranger approaches them, and you have a bigger chance that one of them will like you. Even if you are handsome enough and have an athletic build, all of them might like you, and then it will be your choice. Not a bad option, huh?