Photo and Avatar
For an efficient online search on a dating site, you have to be visually present. We will not demand much information from you at registration, but you must fill out a profile form. This will help our girls to make their search. Your avatar and photos are very significant for your prospect brides. The avatar gives the girls a favorable first impression about you. You can upload your avatar at any time.
Step one. To access picture and avatar settings you have to choose the left menu option….
My gallery
This page has two areas. My avatar and My gallery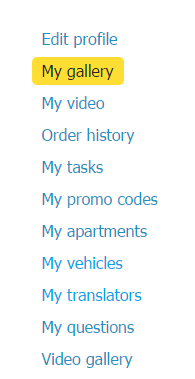 In My avatar area, you can upload your avatar picture and cut it with the help of a floating window or take it directly from your webcam. Remember to enable flash player on Bridge-of-love.com when taking a photo from your webcam.
My gallery area, upload your photo in Add new photo field. Please, remember that these photos are public and all the girls will be able to see them. Do not use this gallery for your private photos.
You must not use photos of other people, groups of people, animals, body parts, nature pictures as your avatar. Nor can you use any image with data or links to any website.
We do not recommend uploading any photos where you are wearing glasses, your face is not seen, any upside-down pictures, or pictures of poor quality.
You can also upload an unlimited number of photos besides your avatar. Notice that a photo you are going to upload on our site must not exceed 2 Mb.
We recommend uploading your most current photos to your photo gallery. Here you can upload any of your photos including those with your family or where you are within a group of other people.
We appreciate it when our clients upload their avatars according to the rules of the site and reward them by giving one-time bonus credits. Read here to find out more about free bonus credits.
Order History
This section contains all the information about the flow of your credits on our site seen as a table. You can also see general information about gift orders, other service orders, credits refunds, and bonus credits are given to you.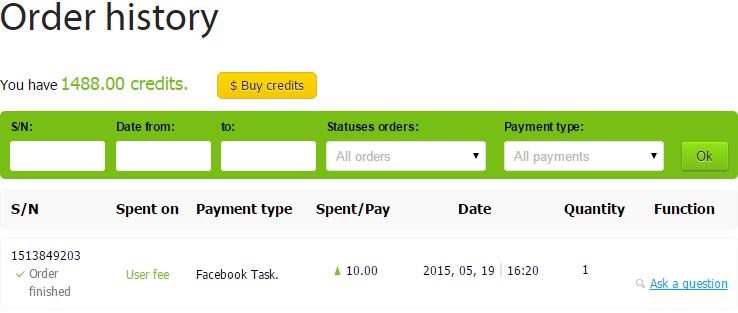 Any credits that were added into your account are marked with the green triangle in the table. In the section "Function" there are some useful links that make it able for you to ask any questions about your orders, to pay for your order or cancel it.
The Spent column shows which girl was each order meant and spent for.
Pay attention to the S/N column as it contains the most valuable information concerning order status and it's a serial number. Please, use this information if you need to address our client support service.
Any credits that have been spent or charged are marked with a red triangle.
Notice that only the information from the Order History page can be used as clear evidence of spending and gaining credits.
In any disputable or controversial cases, we have the right to ask you to provide us with screenshots of this page