Dear Customers!

We hasten to inform you that as a result of frequent requests for a more convenient payment system, we have introduced a new function for the Checkout payment system. The work of this function facilitates your purchases by making automatic payments for the amount of your last replenishment if your credit balance on the site is reduced to zero. This function works continuously in automatic mode and can be turned on / off ONLY when the system purchases credits through the system boards by ticking the corresponding box.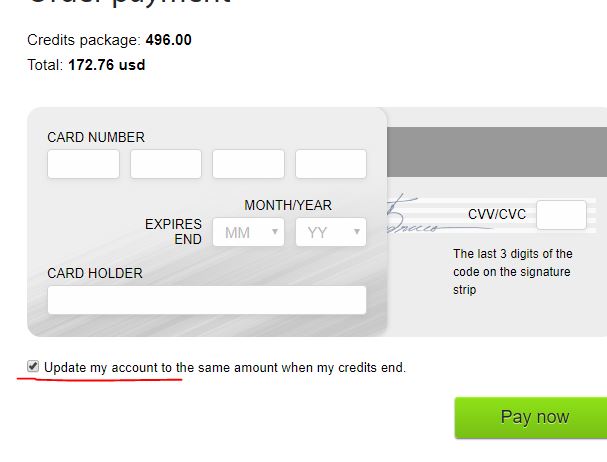 Moreover, for the purchase to take place, you do not need to confirm it yourself, because when you check the box at the time of purchase on the payment system website, the operation is performed in a completely private session, to which no one except you has access.
!!!PLEASE PAY ATTENTION!!!
Automatic purchase of loans is made at the moment when you are trying to purchase any service on the site that exceeds the current balance of loans on your account, so please use this function rationally, if you are not sure that this function will be useful to you - think over the change of payment system. Using the Checkout payment system with a checkmark in the field about consent to automatically replenish your credit balance means your agreement with the policies and rules of this payment system. The presence of a checkmark or its absence is your conscious choice during each of your credit purchases. This function does not automatically purchase loans after some time, but only if your credit balance on the site does not match the price set for the service on the site. Automatic payments are non-refundable, except as described in the policy and rules of the website.
Thank you for using our site, we are always happy to help you on the path to your fate.
Best Regards,
Team BoL.